Run Don't Walk
Moschino's Spring 2015 Barbie collection has already hit the streets.
---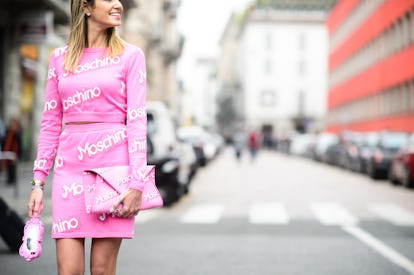 Photographer: Adam Katz Sinding
Only hours after the model Charlotte Free rollerbladed her way into fashion history at the Moschino Barbie-themed Spring 2015 show, pieces from Jeremy Scott's girl-tastic collection began popping up on the streets of Milan. Clad in the collection's branded sweatshirts and plastic pink ensembles, It Girls like Chiara Ferragni and Leigh Lezark triggered flashbacks to last season, when Scott's Fall 2014 French fry iPhone case became seemingly as ubiquitous as the fast-food chain that inspired his designs. Perhaps it's the designer's street wear background that has his Moschino collections going viral, but it seems just as likely that his ability to tap into mass appeal of our childhood desires—namely fried things and 1990s nostalgia—has every twenty-something running to Opening Ceremony.
Moschino's Barbie collection on the streets.

Photographer: Adam Katz Sinding
Moschino's Barbie collection on the streets.

Photographer: Adam Katz Sinding
Chiara Ferragni wears Moschino's Barbie collection.

Photographer: Adam Katz Sinding
Moschino's Barbie collection on the streets.

Photographer: Adam Katz Sinding