Jeremy Scott's Moschino Presentation Was an Haute Couture Puppet Show
Everything was miniature, from the irons backstage to "Anna Wintour" in the front row.
---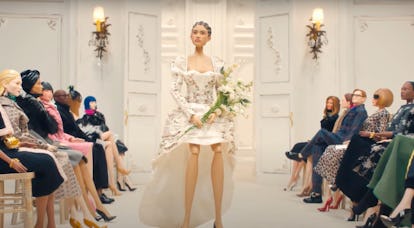 Courtesy of Moschino
Most designers have chosen to scale back this Fashion Month, but not Jeremy Scott: His presentation of Moschino's spring 2021 collection during Milan Fashion Week cost even more than the house would have spent on a traditional runway show. To recreate "that whimsy, that magic, that fantasy" of his usual fashion week showings, Scott worked with the Muppets creator Jim Henson to create a salon-style puppet show. "In April I had to pull the trigger and say, I have to stay with this," the designer told Vogue of the undertaking. "Even if everything goes back to normal and everyone else has [runway] shows again."
To start, Scott had to actually create the 40 looks that comprise the collection. He then painstaking duplicated them, scaling down the same fabrics and motifs to the proportions of 40 30-inch marionettes.
And then there were even more marionettes to dress. Scott also created and outfitted a miniature version of himself, along with the street style star Anna Dello Russo, the New York Times critic Vanessa Friedman, and the Vogue editors Anna Wintour, Edward Enninful, and Hamish Bowles. (Wintour, arguably the most recognizable of the dozen-plus "attendees," was the only one to hold a placard bearing her name.)
As for what happened to the marionettes post-show, at least one made it to its IRL counterpart. Bowles shared that he was "highly amused" to open up a Moschino gift box and "discover Mini Moi," with whom he proceeded to have a photo shoot. Dello Russo chose to make a TikTok of hers dancing to "WAP."
As novel as the concept may seem, couture puppet shows actually date back to post-World War II France. The format was Scott's homage to Théâtre de la Mode, a traveling exhibition of couture designed by around 60 Parisian designers like Pierre Balmain, Cristóbal Balencaga, and Jeanne Lanvin. Their goal was to raise money for war survivors—and keep the ailing industry afloat.
The collection itself was also an homage to haute couture, with intricate beading, corsetry boning, and tulle under-skirts. Ahead of the show, the Moschino team prepped them with miniature irons "backstage." The puppeteering, Scott insisted, was playful rather than political: "The best thing I could do for everyone who is stressed about the election, the pandemic, social unrest, and the future was to give the gift of fantasy and take us away from all of it for a few minutes," he said. "Let us enjoy this little fashion world of ours."
Related: Versace Cast "Plus-Size" Runway Models For the First Time Ever