Mosiac Trailer: HBO is Making a Choose Your Own Adventure, Interactive Series
It's a TV series that's also an app that's also a Sharon Stone vehicle.
---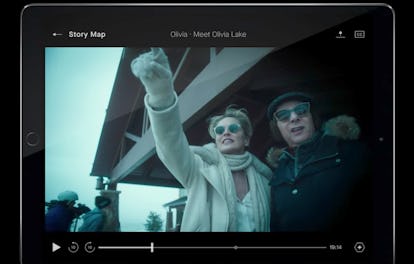 HBO can barely keep Game of Thrones secrets under wraps, but apparently it's been able to hide an entire boundary breaking, star-studded series created by Steven Soderbergh shrouded in mystery. Today the network dropped the first trailer for the previously only-hinted-at Mosiac. It's a TV show, but it's also an app… or maybe it's both combined, or something new all together. We're not really sure. From the looks of it, it may be the digital answer to those old choose-your-own-adventure novels.
Though, when W asked Soderbergh if it was in fact a choose-your-own-adventure in August, he only clarified, "Sort of. It's a fixed universe; you do at certain points decide who you want to follow and how you want to navigate this narrative. There's a story map that you can access at any time to look at the 30,000-foot view of what it is. The appeal of this was that everyone gets to be a lead character, should you choose to go that way. And it was fun for the actors, too. That cliché of the actor who thinks everything is about them? With Mosaic, it is!"
Even if the stars don't appear much in the first trailer, Sharon Stone, Paul Reubens (yes, Pee Wee Herman), Garrett Hedlund, and Beau Bridges are all onboard on unspecified roles. Writer Ed Solomon (the man behind films as varied as Bill & Ted's Excellent Adventures, Men in Black and 2000's Charlie's Angels) penned the scripts.
The project was first announced back in 2015 as a film, and at the time Soderbergh said in a statement that it will not only be "a fresh way of experiencing a story and sharing that experience with others" but that "it will require a new Emmy category, and we will be the only eligible nominee."
Here's what little we can decipher about the story from the trailer:
Stone plays Olivia Lake, a famed children's book author who finds romance with a "mysterious stranger."
Olivia Lake is murdered, and then her hands are found.
Someone named Petra Neill has some things she wants to come clean about some things to Hedlund's character.
Other than that, well, we can't tell. Most of the trailer just vaguely explains the concept of how you're actually supposed to watch the show.
IndieWire, however, has quite a few more details about how the app component will work. There's 14 different "nodes" (which are sort of like episodes) that viewers watch, and then they chose the next "node" on which character they're most interested in. Throughout, you'll also be presented with the option to watch cutaway scenes connected to clues in the main storyline.
According to Entertainment Weekly, the app will be available to download for free beggining in November. A six-part miniseries will then air on HBO in January. Apparently, this isn't the only "choose your own adventure" type show in the works. Soderbergh says he's working with two other filmmakers to develop more.
Related: The Things Steven Soderbergh Will Tell You While Daydrinking in Central Park
Butterflies of Paris: How Street Style Stars Do Paris Fashion Week: