Mr. & Mrs. Italy, Kate Moss and Cara Delevingne's Go-To for Fur-Lined Parkas, Is Finally Open on the Upper East Side
Mr. & Mrs. Italy's new store on the Upper East Side will keep you warm all winter.
---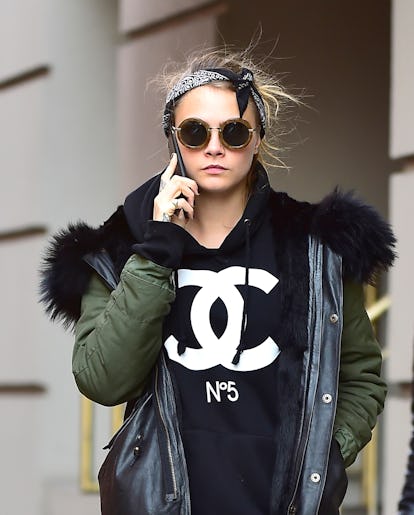 Getty Images.
Geraldina Bassani Antivari is obsessed with fur. And the color pink. Fortunately, as the creative director of Mr. & Mrs. Italy, an Italian fashion label that has earned a cult following for it's colorful, fur-lined parkas, she frequently gets to work with both. "I love the way that the Mr & Mrs Italy parkas evolved from being something very classic, to something very unusual," she says. "Pops of brightly-colored fur in the hood and lining elevate a traditional army parka, and allows you to feel cool and stylish, while also keeping warm."
London It girls like Kate Moss and Cara Delevingne, as well as pop stars like Rihanna, have been turning to the fur-centric brand for years, and now New Yorkers can do the same, thanks to Mr. & Mrs. Italy's new outpost on Madison Avenue. Here, everything you need to know about the new store.
Tribes Women of all ages, from fashion addicts, to discreet fur wearers, to women loving the sporty-chic look.
Fans of the brand London girls Kate Moss, Cara Delevingne, and Georgia May Jagger; as well as Rihanna, model Zuzanna Bijoch, and blogger Chiara Ferragni.
The Mix The brand's offerings range from fur-lined parkas and bomber jackets to t-shirts and standalone fur collars. The Madison Avenue store also offers three parka styles that are exclusive to that location, including one with a black shell, and a natural, darker-colored fur lining.
Best Sellers Parkas and bombers, duh.
Piece de Resistance For the store, the white Petite Friture Vertigo Pendant Lamp; from the collection, the greenland fox midi parka, in blue and white.
Price The brand's signature patchwork tees start at $350, while parkas range from $2,500 to $8,000.
For those who prefer to shop from home Shop online at mmi.it
Watch W's most popular videos here: