'Mr. Robot' Returns, and the ESPYs Make a Statement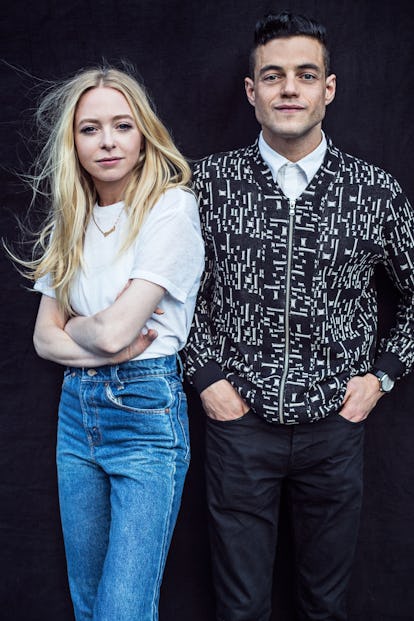 Victoria Stevens
Day, Bastille The French holiday in honor of the fall of the Parisian Bastille prison in 1789. But really, it's become an excuse to wear stripes and eat baguettes.
Doubleday, Portia The star of Mr. Robot with Rami Malek — whose two-part second season premiere aired Wednesday night — Doubleday discusses her character's stunning transition to the dark side and the time she got hacked IRL.
ESPYs The annual ESPY Awards on ESPN — this year, honoring Muhammad Ali — opened with a powerful call to action by NBA stars Lebron James, Carmelo Anthony, Dwayne Wade, and Chris Paul, who demanded an end to the continuing gun violence and pledged to do more in their own communities.
Hoogenboom, Jamilla Dutch model, loves berries.
May, Theresa Over the course of two days, Theresa May became the leader of Britain's Conservative Party and then the leader of the whole country. The newly minted prime minister has already begun filling out her cabinet, including the contentious placement of one-time opponent Boris Johnson as foreign secretary.
McQ The Alexander McQueen contemporary label has elected Japanese noise rockers Bo Ningen for the Fall 2016 campaign, shot by Harley Weir and also starring Greta Varlese.
Men's, New York Fashion Week As the shows and presentations of New York Fashion Week: Men's draw to a close Thursday, here are all the highlights from menswear week so far.
Osborne, Maxwell The Public School and DKNY designer penned an open letter to the fashion community urging his peers to embrace the Black Lives Matter movement — which Osborne himself has done, appearing at the Union Square protests Thursday evening.
Rips, Nicolaia The 17-year-old prodigy memoirist who grew up in the dysfunctional Chelsea Hotel has the biting wit to match her colorful stories.
Watch W's most popular videos here: