Mrs. America's Costuming Is Mad Men Quality, But Real-Life
The new FX series's costume designer, Bina Daigeler, on collaborating with Cate Blanchett, Rose Byrne, and Uzo Aduba to create accurate looks for the show.
---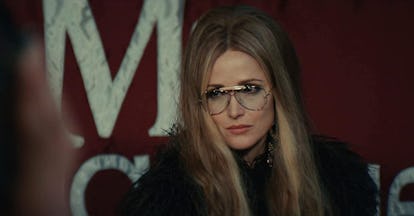 FX
There's a lot to take in in Mrs. America, the FX series that spans the full decade of the 1970s movement for women's rights. There's the conservative misogynist Phyllis Schlafly, and the rise of her chilling movement Stop ERA. There's the nuanced relationship between Gloria Steinem and Betty Friedan, and the feminist evolution it represents. There's tension between the black feminists and the white feminists fighting for the ERA. There's more about Shirley Chisholm, the first black woman congressperson and major-party presidential candidate, than you'll ever find in most history books. And there are the complex storylines of five more central characters, each of which gets its own episode.
And then there are the clothes. Mrs. America easily merits a second watch, if only to appreciate costume designer Bina Daigeler's handiwork. Like everything else in the series, it's based almost entirely on the facts. But from there, Daigeler had to do a bit of guesswork. Each character got their own closet, and each of those closets was "huge," Daigeler recalled from her home in Spain. "They had to be, with so many characters and a timespan of 10 years. We had to create all the looks they wore when they weren't in public, based off of their iconic looks." Here, she shares how she did so for everyone from Cate Blanchett's Schafly to Uzo Aduba's Chisholm.
You must have done an enormous amount of research for this show. Where did you start?
Well, I'm from Europe, and I hadn't heard of Phyllis Schlafly. Or at least I did, and forgot. Cate was the first actress I met on the show, so Phyllis was the first one I researched, going through all the archives from [executive producer] Dahvi Waller and the studio and did my own research. For Phyllis, and for everyone else who isn't fictional, her costumes are based on reality. It's more about what happened in real life, from the point of view of fashion. All of these women had very special points of view on what fashion is and how they dress. I mean, look at Shirley Chisholm. She was so particular in her point of view and her style. I really tried to copy some of her iconic moments, with all of the printed fabrics.
On a basic level, how did you approach the contrast between the Stop ERA side and the libbers?
First, the colors. At the beginning, Phyllis and the antis are all in these pastels. I avoided pants. I really tried to get this really proper, clean American housewife. My main inspiration was advertising in the '60s. It's really like, I love my kitchen, I love to do pancakes. Always made up, wearing a clean apron, wanting to look pretty for when her husband came home. On the other side, the libbers had this bohemian, hippie flavor, or their own style like Shirley Chisholm. They were much more casual and inspired by what they really liked. They dressed for themselves.
I love how Phyllis and Alice [Sarah Paulson] occasionally pull out these enormous crucifixes. There's one debate in particular where Phyllis's is very distracting.
Don't laugh, but she was wearing that in real life. Especially in moments like that, when she was [in the public eye]. It was really creepy. She was a really creepy character.
She was!
[Laughs.] For me, the crucifix was very important. She made such a statement by wearing it at that moment. That was like Phyllis—she always smashed everything in the faces of everybody. She just did it. She wasn't afraid. Like, I just want to show them that I am really Catholic so I'll just take the biggest cross I can find at home and wear it.
It's such a funny contrast with her giant Stop ERA pin. It's so loud, and looks more like something the libbers wear.
We were very careful to make sure the pins were historically accurate. Dahvi Waller and the art department checked over each and made sure there was no mistake.
Jill Ruckleshaus [Elizabeth Banks] is such an interesting character, because she's this in-between point of the two sides. I noticed when she stood up from her drinks with Phyllis, they're wearing basically the same outfit. But Phyllis is wearing a skirt, and Jill is wearing pants.
Yes, and her blouse is much more fashion. Elizabeth plays Jill, who's a Republican. But she has the same ideas about emancipation. I wanted them to look similar. Because at that moment, we were already in the mid-'70s, and I think it's too simple to say that you can always tell a person's politics from what they're wearing. You can't. That's something that happens later on, as the movement grows much bigger. Pamela [Kayli Carter, who's anti-ERA] also wears pants, because she has a lot of kids and is always running around. And she's the youngest. But I made hers more old-fashioned.
Getting to the libbers, Gloria's waist belts are such a throwback. And recreating how she tucked her hair into her aviators is such a great detail.
All of the actresses' hair was perfect, which of course helped me a lot. We found those glasses in L.A. They're a standard, very common vintage model. I'd say that 90 percent of our main characters wear clothes that were bespoke. Even the jeans for Gloria [Rose Byrne]. Everything was made for them, because you can see how in real life, they look amazing. Just to get the same, it was best to make everything for them. And of course there was high-end vintage shopping and rentals for the crowds. I really, really tried to make sure everything was authentic.
What were some of your favorite vintage finds?
There are a lot. Jill has some amazing, amazing pieces—really special coats and designers, like Celine and Yves Saint Laurent. Phyllis's pieces were mainly built, but she had a bit of Yves Saint Laurent. So did Gloria.
I'm always blown away at how hot and itchy fabrics from that era make you feel.
Ah, yes. I have to say that I cheated there a little bit. It wasn't all polyester. There's a lot of cotton, silk, tulle, and linen going on, to make it more comfortable. And I bought a lot of vintage fabrics that were higher quality. But you know, it's always the same. You shoot the winter scenes in summer, and the summer scenes in winter, so it's never easy.
Did the actresses have a say in how they were dressed?
More than a say. You develop the character together, because they have to feel real. In the fittings, we made sure we were all on the same page, so they really could feel like "Yes, this is the right item for her. This makes sense." We tried to construct a whole closet for each, so we could always change and improvise what feels right. And we had a lot of fun. There was so much laughing with Sarah Paulson, creating this frumpy fictional character.
How did you approach dressing the black feminists versus the white feminists? There's a real tension between them, even though Gloria and the rest barely pick up on it.
Well, with Flo [Kennedy, played by Niecy Nash], her cowboy style was iconic. She was so important in this fight, and wore really signature clothes. They were the basis for the ones I made, like her burgundy corduroy pant suit. That was one where Niecy said, "Oh yeah, this is it." All the actresses did their research. They knew their iconic looks. Bella Abzug [Margo Martindale] had her signature hats.
Right—she mentions that her mom told her to always wear a hat, so she wasn't mistaken for a secretary. As for the men, they're dressed so plainly and uniform that they essentially fade into the background. Was that intentional?
Well, some of them really stand out. Mark [Adam Brody] wears this very chic dark blue suit in the debate scene where Phyllis wears a big cross. But with Fred, I wanted to go against it. John Slattery is such a handsome man, and real Fred was not. At least, not like John Slattery. [Laughs.] I tried to make him look a little older when I was making the suits. Fred was much older than Phyllis, and I wanted that to be obvious.
He looks so messy in the scenes at home. His suspenders are so tight, and his button-downs are so baggy.
Yes, we did that a bit. Because it's not Mad Men. It's not a fashion show. It's people at home.
What did you dress like in the '70s?
I went through everything. I had a hippie moment when that came to Germany. I wasn't so much into bell bottoms, because I was too young for that, but I wore pump pants with the elastic down there. My first fashion moment was much more in this Indian hippie style. Then I went into the punk moment, and I had… how do you call the haircut? When you have side cuts and…
A mohawk?
Yes, a mohawk. [Laughs.] My math teacher left the classroom because he said he couldn't teach with someone with hair like that. It was orange.
Related: Shirley Chisholm, Unsung Style Hero of the Women's Liberation Movement