The Hills Are Half-Alive in MTV's Latest Attempt at Vintage Reality TV Revival
You know MTV can't stay away from a nostalgic moment.
---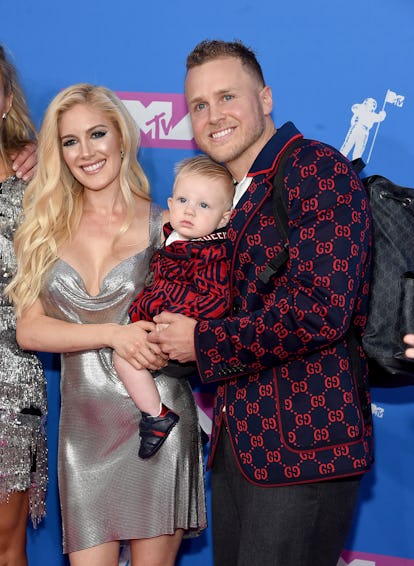 Photo courtesy of Getty Images.
Last night, the VMAs were full of meme-able moments and memorable wins and performances. But perhaps most notably, MTV announced a return of its now-vintage reality series, The Hills.
From 2006 to 2010, The Hills established itself as a cultural millennial milestone for the network, becoming a spin-off that ended up being more popular than the original series (Laguna Beach), while following the lives of young Southern California residents including Spencer and Heidi Pratt (she was Heidi Montag back then), Brody Jenner, and Lauren Conrad. Leaning into the aughts nostalgia (last year MTV brought back Jersey Shore and TRL) has proved to be successful for the network, so at the 2018 VMAs, the cast of The Hills took the stage to announce that MTV has decided to reboot the classic now that some of the cast is married with children and focusing on more than just their fashion internships now that they have established their own personal brands.
Audrina Patridge, Whitney Port, Jason Wahler, Stephanie Pratt, Justin Bobby, and Frankie Delgado are all expected to return, but one thing will be missing from The Hills: New Beginnings. Well, actually, two things. Neither Lauren Conrad nor Kristin Cavallari will be there. The iconic frenemies who audiences were introduced to on Laguna Beach will not be present during this reboot, and according to sources at People, though Conrad is "in a different place in her life" and taking care of her 13-month-old son, Liam, while tending to her line of clothes at Kohl's, "she wants everyone to enjoy themselves" and "she wishes everyone the best."
Cavallari, however, will not be able to join the reboot because she is already the star of her own show on E!, Very Cavallari, which chronicles her life in Tennessee with her husband, football player Jay Cutler, their three children (whom she has decided not to ever show on camera), and her brand, Uncommon James. Though she is contractually obligated to her show on E!, according to People, Cavallari is "still close with Heidi [Montag] and Spencer [Pratt] and is excited for them."
Looking back, some of the show's most iconic lines came from Lauren Conrad, or LC, herself. And even though we know LC and Cavallari won't return, some questions still remain. Who else is going to remark about Justin Bobby wearing combat boots to the beach? Why didn't they bring back Natasha Bedingfield to rerecord the theme song? No reboot or series continuation is the same without two of its key players, but we may have to forgive but not forget that MTV isn't bringing back two of the biggest stars created from The Hills in the first place, and at least with The Hills: New Beginnings, we might get some good dad content coming from former reality series villain Spencer Pratt.
Related: MTV VMAs 2018: The Best Dressed and Boldest Looks of the Night