MTV Is Bringing Back Undressed for a New Generation of Woke and Horny Teens
It's going to make "Riverdale" look tame.
---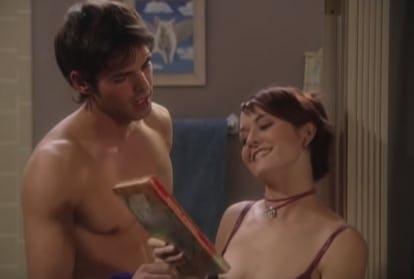 If you're of a certain age and were lucky enough to have cable TV in your bedroom as a teen, you probably remember staying up late to watch MTV's Undressed, the sort of telenovela-style late-night show that chronicled the romantic and sexual escapades of a revolving cast of high schoolers, college kids, and 20-somethings where, per the title, just about everyone ended up taking at least some clothing off. Not only did the show rouse youthful libidos, but it also provided some useful sex ed (like demonstrating how to put on a condom with the help of a banana, and discussing consent) and helped to normalize queer storylines, in addition to destigmatizing STDs and rendering other sexual taboos moot. In short, the program created by the Oscar-nominated director Roland Joffé left an entire generation not only a little horny, but a little more woke as well.
In many ways, it seems perfect that MTV has announced that they're reviving the show through their newly formed MTV Studios (the same unit that is working on reboots of Daria and The Real World, among other programming). The youth wants that woke and sexy content, and this time around they don't even necessarily need cable TV in their bedroom. They've all got smartphones, anyway. While Joffé is coming back, Deadline has few other details about what form the show may take. MTV Studios productions aren't necessarily destined to air on MTV (that Real World reboot is for Facebook), so the new Undressed could wind up as a nightly cable show, or it could be something like a Snapchat show. Who knows?
What we do know is that while the show got away with everything from stories about polyamory to lunch meat kinks during its original run, from 1999 to 2003, the times have certainly changed since then. Back then, MTV drew the line at things like discussing anal sex or showing sex toys. Nowadays, Teen Vogue has helpful tutorials on, yes, anal sex and sex-toy buying guides.
The original show tended to keep things light and wrap it all up with relatively happy endings (no pun intended), even when it dealt with heavy material. We expect the same tone this time around, but the two decades between the planned reboot and the original have provided lots of new storytelling opportunities. Here are some topics we can maybe expect this time around.
Transgender Characters
The show's original run did wonders for LGB reputations. Each episode followed three storylines, and it seemed like at least one of those always involved queer characters. However, according to an oral history of the show from Vulture, writers don't seem to remember an instance in which they included a trans character. Obviously, that should change with the new iteration, and the show's previous representation of LGB characters provides a roadmap. While many storylines seem quite trite now (there were a lot of coming-out stories), others involved characters who happened to be queer just navigating life. Including transgender people would also come with the significant benefit of discovering young transgender actors to play those parts.
Social Media and the DMs
You can't talk about being young and dating without the impact of Instagram. Whether it's trying to cheat in the DMs or getting the perfectly suggestive thirst trap, there's lot of material for the show to dig through here. Perhaps even a crossover with Catfish is in order.
Daddies
The original series showed relationships between age-appropriate characters, but in this post–Lana Del Rey world, you can't pretend that the amount of young people who prefer to date older isn't significant.
Sex Workers' Rights
Perhaps it's still taboo even 19 years later, but Riverdale has already tackled cam boys, so there's room for Undressed to explore such topics in even more depth with even more political sensitivity.
The Apps
Similar but distinct from general social media, things like Tinder and Grindr (or, as we all like to call them in polite company, the Apps) have upended how people date and hook up. Not only is there lot of storyline material there, but there's also probably a sponsorship opportunity, come to think of it.
Kink Shaming
What is it? Does it really exist? MTV Undressed, please investigate.
Disabled Characters
Another population missing from the original? Disabled people, who, yes, do have sex, thank you very much.
"No Nut November"
This is a hashtag going around Twitter at the moment, and, honestly, it sounds fake, but also like a perfect Undressed storyline.