A Gif-By-Gif Guide To the Top MTV VMA Nominees
Eleven for Beyoncé, four for Rihanna, and none for Taylor Swift.
---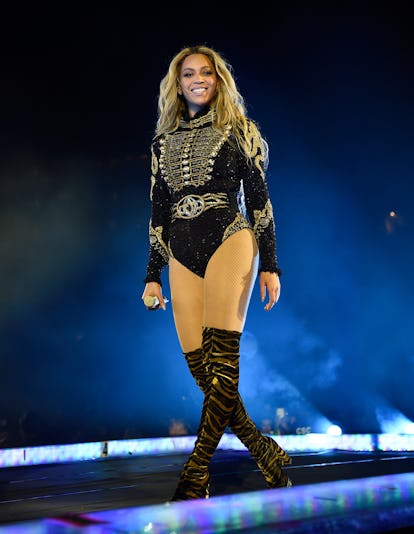 Kevin Mazur/WireImage
Although it's a month out from the MTV VMAs, which will take over Madison Square Garden on August 28th, the nominees were announced on Tuesday afternoon. Beyoncé's Lemonade leads the nominees with 11 nods across different categories and for different tracks, but the accolades seem almost an afterthought in the wake of the massive impact the album-length music video-slash-movie had when it was released on Tidal in late April of this year. It's nominated for the newest award, Breakthrough Long Form Video, which was first awarded as Best Long Form Video to Madonna's The Immaculate Collection in 1991 and has only just been revived this year under its new name. Among other nominees, Adele places second, with eight nominations for "Hello" and "Send My Love (To Your New Lover)," but absent — perhaps surprisingly — is any nomination for Taylor Swift. (She won Video of the Year in 2015 for her collaboration with Kendrick Lamar on "Bad Blood.") And, despite the recent flurry of controversy surrounding Kanye West's "Famous" — both in terms of video and lyrics — he's been nominated for both Video of the Year and Best Male Video, though he's notably missing from the Best Hip-Hop Video category. Here, a guide to the top 11 videos you should know.
Beyoncé: 11 Nominations
Beyoncé's groundbreaking "Formation" video has kind of set a new benchmark for videos that blend political commentary with stunning visuals and choreography. For that achievement she's rightfully earned six VMA nominations, plus an additional five for "Sorry," "Hold Up," "Freedom," and the entirety of Lemonade.
Adele: 8 Nominations
Why does Adele have a flip phone in the video for "Hello"? It was the question everyone was asking when the video dropped in October 2015. And it's the question we're still asking now, while the video is up for seven awards (Video of the Year; Best Female Video; Best Pop Video; Best Art Direction; Best Direction; Best Cinematography; and Best Editing).
Drake: 6 Nominations
Infinitely meme-able, memorable, and James Turrell-inspired, "Hotline Bling" is up for Video of the Year, Best Male Video, Best Hip-Hop Video, and Best Art Direction — plus, Drake earned an additional two nods for his collaboration with Rihanna on "Work."
Ariana Grande: 5 Nominations
It's been two years since Ariana Grande won Best Pop Video for "Problem," and now she stands to add four more moon men to her collection for her latest, "Into You," which is nominated for Best Female Video, Best Pop Video, Best Cinematography, and Best Editing.
Rihanna: 4 Nominations
Everyone's new favorite power couple, Drake and Rihanna, takes to the screen for the twice-nominated "Work," which will compete in the Best Female Video and Best Collaboration categories. Rihanna is also up again in the Best Collaboration category and in Best Male Video with Calvin Harris's "This Is What You Came For," bringing her total up to four.
Bryson Tiller: 3 Nominations
Bryson Tiller's eerie, noir-ish video for "Don't" has been nominated for Best Male Video and Best Hip-Hop Video — plus, it's earned the singer-songwriter and rapper a Best New Artist nomination.
Calvin Harris: 3 Nominations
There was no nomination for Nils Sjöberg for "This Is What You Came For" — for this video, Rihanna and Calvin Harris get all the credit. They're up for Best Male Video and Best Collaboration, while Harris earned an additional nomination for "How Deep Is Your Love."
Justin Bieber: 3 Nominations
Though a Bieber track is at the center of "Sorry," Bieber himself is not — part of his concept video Purpose: The Movement, "Sorry" features the choreography of Parris Goebel and ReQuest Dance Crew. It's sassy and fun and nominated for Video of the Year and Best Pop Video. Bieber is also up for a Breakthrough Long Form Video award for Purpose.
Desiigner: 2 Nominations
Kanye West protégé Desiigner teamed up with the seasoned rapper for his breakout video "Panda." It features his trademark flailing dance moves, and it's gotten him recognized for Best Hip-Hop Video and Best New Artist.
Kanye West: 2 Nominations
Controversy magnet though it may have been, Kanye West's "Famous" has also earned its share of acclaim, it seems — he has been nominated for Video of the Year and Best Male Video.
FKA Twigs: 2 Nominations
On the heels of two big festival dates — she played Pitchfork and Panorama on consecutive weekends — dancer-turned-singer FKA Twigs is up for two VMAs. Though they're both in production categories — one for Best Choreography, one for Best Visual Effects — it's much-deserved recognition for her EP M3LL155X.
Other favorites like Chance the Rapper and The Weeknd are up for single awards, but these are the ones you truly need to watch come August 28. And who knows — Beyoncé might sweep the whole thing. We wouldn't be mad.