Much Ado About Something
The Public Theater's annual gala was complete with sun and stars.
---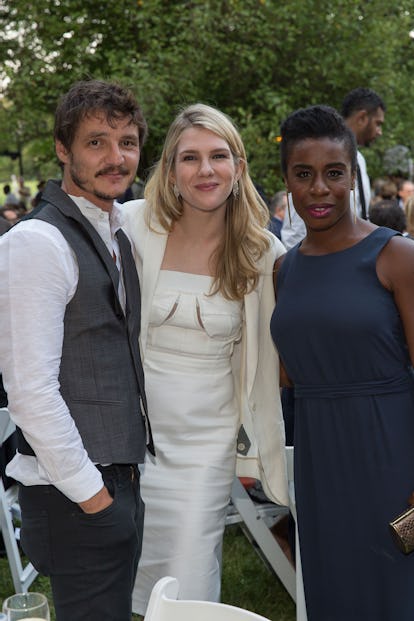 The Delacorte Theater in Central Park is the kind of place where the unexpected is a given. Attending a performance of one of the Shakespeare in the Park productions that occur each summer is a gamble with the elements. Will it rain? Will the heat broil audience and actors alike to a crisp? Will the bugs eat you alive?
Meteorological forces behaved Monday night for the Public Theater's annual gala at the Delacorte, but that didn't mean there weren't a few surprises. There, showing up on time for the early bird special alfresco dinner, was Courtney Love, dressed like an uptown gal, oversized black crocodile Hermes Birkin bag in hand. She jumped into a table-side tete-a-tete with the playwright Suzan-Lori Parks and later Frank Langella (planning an upcoming Broadway collaboration?). At another table, the actress Uzo Aduba, aka Crazy Eyes from Orange Is the New Black, was besieged with young fans requesting selfies. And Peter Dinklage and Pedro Pascal shared duties representing Game of Thrones.
But really, the night was about the Public Theater's ongoing Shakespeare in the Park program, which provides free outdoor plays to thousands of attendees each summer. The night also doubled as a celebration of the legendary, late composer and conductor Marvin Hamlisch and his A Chorus Line, which premiered at the Public Theater in 1975.
The stars of the Delacorte's current production of Much Ado About Nothing, Lily Rabe and Hamish Linklater, urged guests to be generous with their donations.
"I have good news and bad news. The bad news is Hamish is on vocal rest. The good news is I spent years of my life studying ventriloquism at the Sorbonne," quipped Rabe, adding, "I feel like the luckiest person on earth [to perform here]."
"She's a good actress, but she's not that good—she really means it!" said Linklater, breaking his doctor's orders.
After dinner, attendees headed into the theater for what was billed as "One Thrilling Combination," a special production of A Chorus Line interspersed with memories from those who knew Hamlisch, directed by Ted Sperling and with special appearances by Jane Lynch, Jesse Tyler Ferguson, Zachary Quinto and Jonathan Groff, among others. Joshua Bell kicked things off with a duet, along with pianist Peter Dugan, of "I Cannot Hear the City," and things wrapped up with Brian Stokes Mitchell's rendition of "The Way We Were." In between, original cast members joined the production's company for an extravaganza that included young students from the Ballet Tech School.
Hamlisch was once quoted as saying "My whole thing is not just to play music for people, but to make them part of the evening." In that, both he and the Public more than succeeded.
Photos: Much Ado About Something
Pedro Pascal, Lily Rabe, and Uzo Aduba. Photo by Simon Luethi.
Public Theater Master Writer Chair Suzan-Lori Parks and Courtney Love. Photo by Simon Luethi.
Peter Dinklage and Erica Schmidt. Photo by Simon Luethi.
Frank Langella and Barbara Walters. Photo by Simon Luethi.
Jonathan Marc Sherman, Josh Charles, and Sophie Flack. Photo by Simon Luethi.
Terre Hamlisch and Public Theater Artistic Director Oskar Eustis. Photo by Simon Luethi.
Jesse Tyler Ferguson and Jane Lynch performing "Sing" at The Public Theater Annual Gala.
The company of One Thrilling Combination performing "One" at The Public Theater Annual Gala at the Delacorte Theater in Central Park. Photo by Joan Marcus.