Mullets Are the Quarantine Trend We Didn't See Coming
Rihanna, Miley Cyrus, Jacob Elordi, and Maisie Williams are just some of the celebs who have put their own spin on a 1980s classic.
---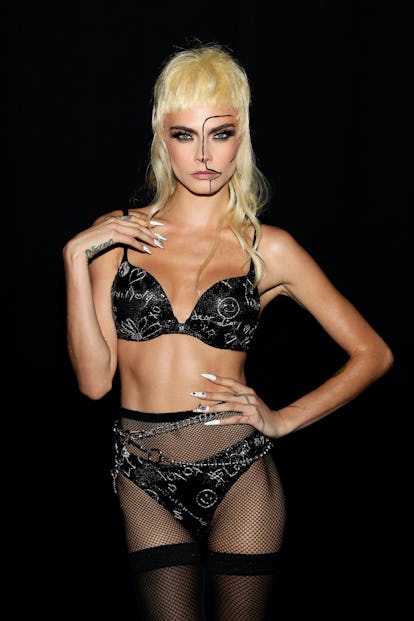 Gerritt Clark/Getty Images
Just as I began to investigate a crucial facet of this story—the sudden appearance of a mullet atop Maisie Williams's head—I encountered another one first. Before I could type in her handle, my Instagram feed refreshed to reveal an up-and-coming model I would have ignored if it weren't for his hair. Perhaps it was the algorithm, but it felt all too fitting: Mullets just keep popping up. And they'll no doubt keep doing so, having received a Rihanna cosign—the milestone that carries over every maybe-trend to definitely-trend. Rihanna put her mullet front of center in the ads for Amazon's Savage x Fenty series, and it stole the show. Its only competition was also a mullet, worn by Cara Delevingne.
Rihanna and Delevingne had the real deal, but dramatic shag cuts like Williams's have also been taking off—and getting more extreme. Just a few days into 2020, Miley Cyrus debuted a very mullet-like shag cut on Instagram with the caption "New hair. New year. NEW MUSIC." Another pop star, Leigh-Ann Pinnock, has since used the same tactic. And Cyrus has only taken things up a notch. By April, she was drawing comparisons to Joe Exotic from Tiger King. ("Wayyy to[o] real," she responded to one of the many memes.)
Barbie Ferreira has also maintained her allegiance to the mullet throughout 2020. The model-slash-actress debuted a black version, which reached down past her shoulders, two days after Cyrus. She's since cut it shorter, but it's still a shag cut at the very least.
Meanwhile, another Euphoria star has become a convert. Jacob Elordi made headlines for suddenly sporting one in July, making him the third of the series's leads to go for it. (Zendaya's magnificent mullet at the 2016 Grammy Awards was unfortunately short-lived.) For Elordi in particular, the timing is significant. One doesn't just simply get a haircut in the midst of a pandemic; they have to actively seek (and risk) it.
Cyrus, at least, acquired a mullet risk-free. She booked a "virtual haircut" with the hairstylist Sally Hershberger, who gave her mom instructions over Zoom. Hershberger also helped Kaia Gerber bleach her hair, which is slightly shorter in the front and often stylized somewhat mullet-like. (She and Elordi, incidentally, are dating.)
Now that celebrities like Williams have helped normalize the look, the real world is getting in on it, too. In fact, the mullet just landed the plebeian equivalent to a Rihanna cosign. Masami Hosono, who's long doled out mullets at Vacancy Project, their highly influential, gender-neutral salon, has joined the club.
I would join, too, but I already took another quarantine risk: chopping off my hair.
Related: Now's the Time to Chop Off Your Hair