Star of India
With his magical designs, Munnu Kasliwal, the late owner of the Gem Palace, put his family's jewelry house—and his country—on the fashion map. Karin Nelson pays tribute.
---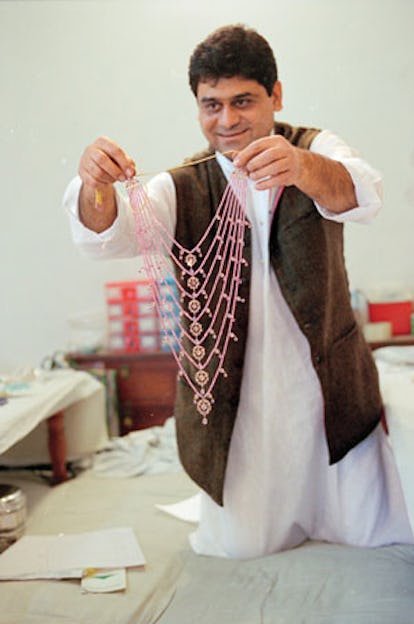 One doesn't make a quick trip to the Gem Palace. A maze of rooms filled with mounds of precious baubles casually strewn across cloth-­covered tables, the jewelry emporium in Jaipur, India, is a menagerie of exquisite bling where the hours pass unnoticed. Awestruck shoppers have been known to miss flights to prolong their sprees there, and company lore has it that both Oprah Winfrey and Bill Clinton made just two stops when they came to town: the airport and the Gem Palace. A veritable who's who of international royals, aristocrats, fashion designers, and celebrities—among them Princess Diana, Mick Jagger, Loulou de la Falaise, and Angelina Jolie—has also dropped by. "Spend an afternoon at the Gem Palace and half the world would come through," says Madeline Weinrib, whose vibrant rugs decorate its floors.
From left: Munnu/ The Gem Palace bejeweled parrot flask; a collection of diamond pieces for Barneys New York.
What drew these heavy hitters, beyond the place's treasures, was the man who had presided over it all for the past two decades: Munnu Kasliwal, a Willy Wonka–esque character in a white linen kurta, whose family has served as the crown jewelers to the country's maharajas since the mid-18th century. A small man with a childlike demeanor, Kasliwal, who died in August of brain cancer at age 54, could often be found in his second-floor atelier excitedly draping unsuspecting visitors with his opulent bijoux as though they were Mardi Gras beads. "I love seeing how our creations come alive when worn," he said in Eric Deroo's 2011 book Munnu: Irresistible Jewels. To that end, he would encourage clients to sport his jewels on the subway: "No one will ever think they're real," he'd reason. He called his knockout pieces "T-shirt necklaces," believing they looked best when paired with one.
Inspired by Indian architecture, Imperial Russian jewels, flora, fauna, and "anything with a certain fluidity," Kasliwal's one-of-a-kind pieces were the fanciful designs of an artist, not of a businessman. He was among the few in an increasingly mechanized industry to do everything by hand. And when it came to stones, he preferred old ones, flaws and all, which he sourced from around the globe—rubies from Mozambique, emeralds from Colombia, rare diamonds from the depths of India's fabled Golconda mines. He'd often gamble on their worth, buying them for millions in their rough rocks-in-a-sack state. (Having been given boxes of them by his father to grade since he was a child, he knew intuitively what was of good quality.) Then, under Kasliwal's guidance, his small army of skilled craftsmen, seated barefoot and cross-legged on the floor, would cut the dusty gems with electric machines and mount them into one of the immensely elaborate designs he was constantly sketching on scraps of paper. "They realized the unimaginable—from a hunk of rock," says Jana Pasquel, the president of the company.
From top: 22k gold, ruby emerald, and diamond lotus cuff; Jacqueline Kennedy and the Maharani of Jaipur, 1962.
Among his many showstoppers: a cuff made from 170 carats of rubies, so seamlessly inlaid with diamonds that it resembles enamel; a flower ring pieced together from delicately sliced diamond petals; and his final creation, a branch necklace fashioned from emerald dew drops and diamond leaves that dance in the breeze. Dotted with diamonds or pierced like lace, the backs of his designs were as outstanding as the fronts. "Why should I pay for this?" a customer once asked Kasliwal, figuring what wasn't readily visible wasn't all that important. "Why do you buy expensive underwear?" he retorted.
But customers need not have purchased anything for ­Kasliwal to like them. Their delight in the beauty of his gems was enough to earn them an invitation to the back terrace for a cappuccino—or to his country house for a dinner. "The food would always be served around midnight in these big, beautiful bowls," recalls the interior designer Muriel ­Brandolini. "We would all gather around a fire pit, seated on pillows, with blankets wrapped around us. And there was Munnu, with an enormous smile, making sure everyone was happy and everything was perfect."
Kasliwal advanced contemporary design in the family business with that same sense of perfectionism. Before Kasliwal, jewels of the subcontinent consisted almost entirely of diamonds, pearls, rubies, and emeralds. He brought semiprecious stones like tourmaline, amethyst, and peridot into the picture, shaping them into the briolette and rose cuts ordinarily reserved for finer gems. "Most Indian jewelers would reproduce what their grandfather had done," says Marie-Hélène de Taillac, who began working with Kasliwal on her own jewelry line in 1996 (her first New York shop just opened on the Upper East Side). "He wanted to change, to move forward."
"I never thought of it as Indian jewelry," says Julie Gilhart, the former fashion director of Barneys New York, which began selling Kasliwal's designs in 2002. "The store was looking for something exquisite and high level—that's where he came in."
Among Kasliwal's proudest achievements was creating a collection to complement the exhibition of Mughal art at New York's Metropolitan Museum of Art in 2001. Despite the economic standstill following September 11, his pieces flew off the gift shop's shelves. Three years later, Nicole Kidman appeared on the cover of Vogue wearing a double-strand diamond necklace of his confection—a coup for any designer, let alone one based in India.
"My father had a huge role in changing American opinions of Indian jewelry—he was really the first to give it international recognition," says Kasliwal's elder son, Siddharth, who now helms the business. "He took it to another level." Adds Brandolini: "The thing about jewelry in India is that it's elaborate and colorful, and it mesmerizes you while you're there. But once you get home, it's too ethnic and you can't really wear it. Munnu modernized Indian jewelry—you can wear his pieces every day and everywhere, and they always look stunning."