Munroe Bergdorf Opens Up About Being a Trans Woman in a Beauty Campaign
"It can be alienating, to see the same images all of the time."
---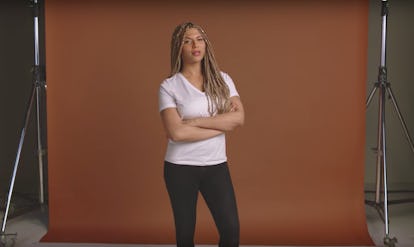 L'Oreal Paris
While representation for all women in fashion and beauty continues to be an elusive goal, at least one brand, L'Oreal Paris, has made huge strides towards it over the past year. Munroe Bergdorf is the latest to help the brand reach out to more women, as the transgender female's new British campaign is a first for the beauty brand, which tapped Hari Nef earlier this year to star in their "Your Skin, Your Story" campaign that debuted at this year's Golden Globes.
To celebrate the occasion, Bergdorf gave an intimate reflection of her thoughts on the beauty world, how it's progressed in her lifetime and how there's still much progress left to go. "When I got the email about it, I just sat with my mum and I couldn't believe it," she told Vogue U.K.. "I think it's great—I mean, as women we're all so varied and L'Oréal is allowing more women to see themselves represented. It can be alienating, to see the same images all of the time and for none of them to relate to you."
For Bergdorf, finding representation in the beauty world was even harder in rural hometown where foundations were limited to four skin tones. "It's important to be represented, because if you just see images of white women then you start to measure yourself against a white standard of beauty, and obviously that's not something I'm ever going to achieve, or should ever feel I have to achieve," she said. "I grew up in the countryside where the only foundations I had access to came in four shades, and all four shades were white, which made it impossible. And this was before YouTube tutorials or anything like that. It has taken a long time to look and feel how I do now, but now I use make-up to enhance who I am, and what's already there."
While Bergdorf doesn't aim to be a role model, per se, she does want to be a figure others can relate to — something she didn't find much of when she was younger. "I hope there's a kid out there who can look at me and maybe relate—I want to be a role option rather than a role model," she explained. "I don't think you should ever compare yourself too much to anyone else…If I'd had women like Laverne Cox and Janet Mock—who I aspire to so much now—to look up to at the time, it would have made my life so much easier. And Scary Spice. I really feel like people don't give Scary Spice enough credit. She was out there, rocking her natural hair, and this was back in the '90s. And then we had to call her Scary? I didn't find her scary."
The most moving part of the interview, though, might be Bergdorf sharing her thoughts on her own memories of L'Oreal. "L'Oréal's 'Worth It' messaging is so iconic," she recalled. "Being able to say those words felt like telling myself and people like me: you deserve to feel good about yourself."
Watch her video campaign below.
The Ultimate Shopping Guide to the Best New Beauty Products for Fall