Michelle Pfeiffer, Penélope Cruz and Judi Dench Are All Suspect in the First Murder on the Orient Express Trailer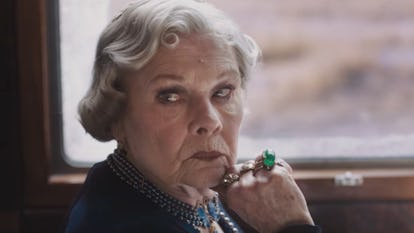 20th Century Fox/Youtube
If there's anything that could take "ride some glamorous transcontinental trains across Europe" off your bucket list, it's Kenneth Branagh's Murder on the Orient Express. The first trailer for the murder-mystery adapted from Agatha Christie's novel has been released, which—if it happened to have been left of your high school's required reading list—tells the story of thirteen strangers stranded on a train in a snowstorm following the murder of one of their fellow passengers.
Famed fictional detective Hercule Poirot conveniently happens to be onboard when the murderous shenanigans occur, and in a race against time to prevent a potential second crime, he makes it his mission to figure out what happened and who's responsible. "I see evil on this train," he confidently purrs in the first look at the film. "I'm probably the greatest detective in the world!"
Besides the thrilling narrative and the beautiful cinematography, Branagh packs Murder on the Orient Express with one of the most impressive casts in recent memory. Johnny Depp—too bad he is the one who meets his maker at the beginning of the film— Michelle Pfeiffer, Penélope Cruz, Daisy Ridley, Dame Judi Dench, Willem Dafoe, and Leslie Odom Jr. are among the A-list talent rounding out the cast, with the women, in particular, dominating the trailer with their scenes. Where else could you possibly find Dame Dench dressed to the nines as a feisty princess, Pfeiffer as a sultry widow, or Cruz as a demure missionary? We think nowhere.
Murder on the Orient Express is set to hit theaters on Nov. 10. All aboard.
Related: Penélope Cruz Will Play Donatella Versace in the Newest American Crime Story
Penelope Cruz Takes W's Screen Test: