The Full Scoop on The Museum of Ice Cream, NYC's Sweetest New Hotspot
Tickets are sold out and there's a 70,000 person waitlist, but you can still get in… here's how.
---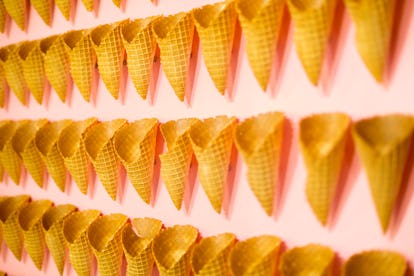 Photo by Collins Nai.
You might not have been inside yet, but you've probably seen the Museum of Ice Cream on Instagram or some form of social media at this point, thanks to the now-infamous sprinkle pool. The temporary museum, which sits just across from The Whitney in New York's Meatpacking District, opened July 29th and is slated to close next month on September 4th. But after the 30,000 tickets sold out within just five days, and a rapidly growing waitlist of 70,000 people (people are even selling the $18 tickets on Craiglist for $100 a pop), that could very well change. Though the museum's founders, Maryellis Bunn and her boyfriend Manish Vora, have not officially announced an extension of the project, they are certainly looking into it so more people can bathe in sprinkles and add a scoop to the "world's largest ice cream sundae." Until then, your best hope of getting in is keeping an eye on the museum's social media announcements (@museumoficecream on Instagram and @museumicecream on Twitter), because they have been releasing small batches of tickets online first thing in the morning.
Whether you're looking for the perfect Instagram moment, or you've just got a big sweet tooth, the Museum of Ice Cream is a treat for all. Have your iPhone ready at all times, because there's a good shot at just about every turn. Of course, taking a dip in the sprinkle pool is the cherry on top here. As the pool rules denote: "Caution: may cause spontaneous happiness." (This is no joke—the pool is just as euphoria-inducing as it looks.) There's also plenty of sweet treats to be had, from ice cream at the entrance to edible balloons made of taffy, Dylan's Candy bar gummies, and the ice cream (from some of the city's best spots, including Black Tap) that's dished up at the end of the tour. After that, you may leave in a sugar coma, or just screaming for more.
Calling Card The majorly Instagram-worthy sprinkle pool, which, for the record, is not full of actual candy sprinkles. Instead, it's filled with over 11,000 sprinkle beads and we can almost guarantee you will leave with a few of them caught in your hair, toes, or somewhere else. There's also a chocolate fountain, edible helium balloons, and over 35 different works of ice cream-inspired art by the likes of Lizzy Darden, Alex Garnett, and Shelter Serra.
The Door As it turns out, just about the whole world is clamoring to get inside this downtown museum and the door is increasingly tight. There's currently a ticket waitlist with 70,000-plus people on it and the museum is currently sold out (tickets were snagged up in just five days) until it closes. However, they are occasionally releasing tickets on their website so continue to check their social channels frequently for updates. Even if you do manage to snag a ticket, be prepared to wait a bit to get inside.
Tribes Big kids with a strong sweet tooth, plenty of actual kids, and Instagram stars looking to sugar coat their social media pages with the ultimate shot—a picture from inside the sprinkle pool.
Tickets One adult ticket plus ice cream, $18. Kids under 10 and senior citizens plus ice cream, $12.
The Scoop 100 Gansevoort Street, NY. museumoficecream.com. Mondays, and Wednesdays through Saturdays, 11 a.m.-9 p.m. Sundays, 11 a.m.-8p.m. Closed Tuesday. Arrive within the first 45 minutes of the hour of your purchased ticket time. Open July 29th to September 4th.
The Full Scoop on The Museum of Ice Cream, NYC's Sweetest New Hotspot
New York's Museum of Ice Cream.

Photo by Collin Nai.
New York's Museum of Ice Cream.

Photo by Collins Nai.
New York's Museum of Ice Cream.

Photo by Collin Nai.
New York's Museum of Ice Cream.

Photo by Collin Nai.