JAN 15: Museum of the Moving Image
The museum reopens after a $67 million renovation.
---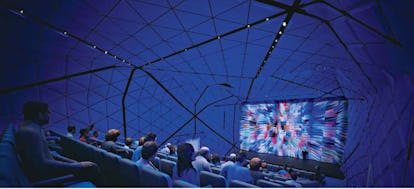 Who says Los Angeles is the king of celluloid? After a $67 million high-tech renovation by architect Thomas Leeser, New York's Museum of the Moving Image, in the Queens neighborhood of Astoria, reopens January 15 with an emphasis on experimental new media and avant-garde material. Long the lovable nerd of the city's cultural institutions, the museum has amped up its sex appeal with inaugural programming that features an Andy Warhol short, live musical performances of scores to silent masterpieces by Georges Méliès and Marcel L'Herbier, and a biannual Fashion in Film Festival. Contemporary offerings include video artworks such as Dolls vs. Dictators, by artist Martha Colburn, and a late-night art party, Signal to Noise, that showcases underground VJs and emerging musicians. Housed in part of the historic Astoria Studios, the museum has doubled in size with a three-story addition and a glitzy entryway of mirrored and transparent glass. Inside, visitors will be treated to a glowing, capsulelike theater; digital galleries; a new café; and a 10,000-square-foot courtyard that could be buried in snow by opening day. L.A. still wins that battle.
Photo: Museum Of The Moving Image