Museums Are Battling Over Who Has the Creepiest Object
Contenders range from a taxidermy kitten tea party to a Viking's fossilized turd.
---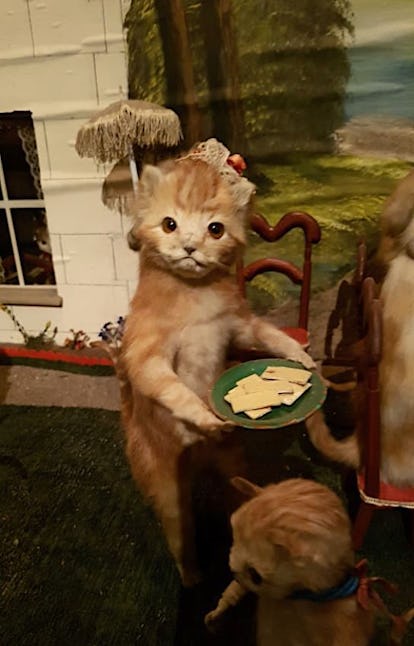 Courtesy of @wheresshelly
Museums around the world are currently in a situation that's all too familiar: The pandemic has forced them to close their doors, and lay off employees as they struggle to stay afloat. The Metropolitan Museum of Art, which was already ailing, estimates a $100 million loss in revenue. And another major institution, the Museum of Fine Arts in Boston, recently furloughed 300 members of its staff.
It's a different story on Twitter. Thanks to its security guard-turned-social media manager, Tim Tiller, the National Cowboy and Western Heritage Museum in Dallas has never enjoyed so much press. Meanwhile, over in England, the 190-year-old Yorkshire Museum has endeavored to help keep its younger counterparts on the map. Every Friday, the archaeological institution organizes a "#CuratorBattle," inviting museums and visitors to respond to a theme. (For example: "best egg.")
Last week's battle was for "creepiest object," and five days later, it's still going strong. So far, submissions range from the remains of a dessicated pigeon to a 155-year-old piece of side meat to a Viking's fossilized turd.
Surprisingly, unconventional mermaids have also been popular. So have rogue eyeballs, including one found on the foreshore of the Thames.
Taxidermy has had a particularly strong showing. It abounds in the Victorian-era tea party that resides in Tasmania's Mona Museum. And it takes a turn in the lion that once belonged to the king of Sweden, which was stuffed and mounted by a staffer who had never seen an actual lion.
Over in rural Ontario, the Museum of Fear joined Twitter expressly to participate in the challenge. It made two submissions: a mid-20th century folk doll, which is actually a taxidermal kitten, and a wax child mannequin from 19th-century Germany. The latter was apparently stored face-down in a heated attic, and now rivals Ariana Grande's take on a character from The Twilight Zone.
Related: People Are Recreating Artworks With Random Things They Find at Home