Les Freaks, C'est Chic
Even in the outrageous worlds of music and art, Kalup Linzy and Hahn-Bin stand out. Fan Zhong meets the new provocateurs.
---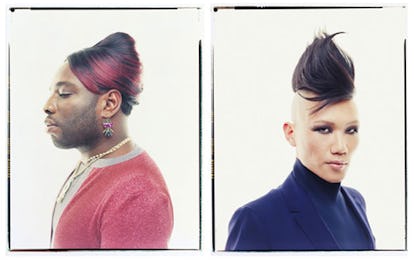 "Kids always knew I was a little off," Kalup Linzy says of his youth. After moving from Florida to New York in 2003, his satires of soap operas—in which he addresses race, gender, sexuality, and family, all while wearing form-fitting drag—were championed by Klaus Biesenbach, director of MoMA PS1, and Thelma Golden, director of Harlem's Studio Museum. Since then, he's collaborated on a project at PS1 with Diane von Furstenberg, and last summer appeared on General Hospital with pal James Franco.
Tell me about your obsession with soap operas. They are a family tradition. My great-grandmother even listened to Guiding Light on the radio. When I was on General Hospital, James Franco's production company sent a camera crew to film my family watching it on TV. To people back home, that's what fame is, not the New York Times art review. When they saw me on General Hospital, they finally understood the context for my art.
You're doing an album with James Franco under the moniker Kalup and Franco. It's Motown inspired, but I've been playing with other sounds. I'm also adapting two stories from James's book, Palo Alto, into an animated series, in addition to working on an opera for the San Francisco Museum of Modern Art.
Will you return to General Hospital? They're talking about it. I would be there so quick—but I'd only do a real soap full-time if I had a say in the storyline.
Do you have a dream TV project of your own? I want to make a glamorous, scandalous, prime-time soap opera set in the contemporary South.
Whom would you cast? Tyson Beckford, my friend [model] Liya Kebede, and Meryl Streep.
Meryl Streep? I'm just stuck on her. Also, I'm obsessed with Toni Braxton and her four sisters. They just came out with a reality-TV show.
HAHN-BIN
Ever since he was five, Korean-American violinist Hahn-Bin, now a 23-year-old virtuoso, has been telling personal tales of "sorrow, terror, and beauty" through incantatory stage shows and a startling look: part alien life form, part avenging angel (his stage attire runs toward Gareth Pugh and Jeremy Scott). His life story has been one of misfit on the run—from Seoul to Los Angeles, and finally, to New York, where he's come under the wing of maestro Itzhak Perlman.
It must be quite something to be mentored by Itzhak Perlman. The wonderful thing is he understood that I am different from him, yet we went together like oil and vinegar. I am the vinegar, of course.
Are you enjoying the recent attention from the art and fashion worlds? Absolutely. I used to walk in the Museum of Modern Art thinking, I would love to perform here. So to have just finished my series of 10 performances there, I couldn't believe it! And I made my debut at Carnegie Hall. I don't think I've ever cried so much from joy.
Is style essential to attracting a new audience to classical music? Yes. My musical influences are Maria Callas and Vladimir Horowitz, who come from an era when classical musicians were popular.
Do you ever feel burnt out? I haven't questioned it. I said to my parents when I picked up the violin the first time, "I will not put this down until I die on the stage with it."
You said that at age five? Yes! It was such an immediate connection. I'll never forget when I walked onto a stage for the first time. The entire audience was shocked.
What kind of hair did you have then? Something cute! You know, my mother actually designed her own clothes when I was young.
Is that where your style comes from? I think so. And my father was the biggest music lover. I guess it's only natural that now I get inspiration for Bach from Allen Ginsberg or for Mozart from Andy Warhol. In a way I feel Warhol was Mozart.
Kalup Linzy wears Cynthia Rowley. Hair by Yoichi Tomizawa using Shu Uemura Art of Hair and Makeup by Carolina Dali, both at See Management.