Musician Thundercat Looks Back on the Year Since His Grammy Win for the Kendrick Lamar Collaboration "These Walls"
"This whole year has been me sitting here trying not to burst into flames," says the virtuoso bassist at Houston's Day for Night festival.
---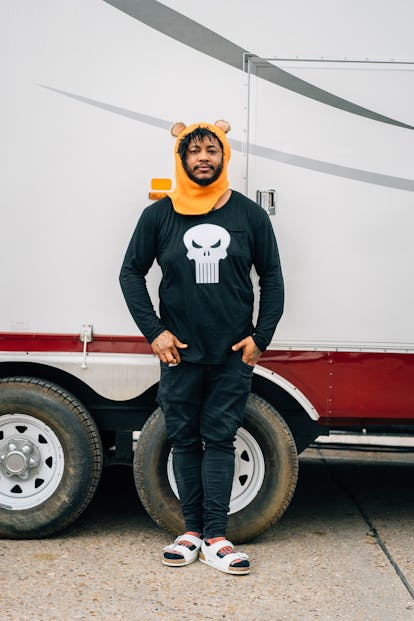 Photo by Carra Sykes.
On Saturday afternoon, Thundercat was trying to navigate the United Airlines website. "I'm so tired of cell phones," he said, eyes glued to his screen. "Did you see Cee Lo's phone exploded in his face?" We sat on a couch in his trailer, an hour before he would climb onto the stage to open Houston's second Day for Night festival. Thundercat, the recording alias of bassist Stephen Bruner, had just arrived in Texas the previous night; he was leaving the next day, and he just wanted to sign up for TSA Pre-check.
"Things that are the bane of existence right now: Pre-check, iTunes, Spotify, Donald Trump," he said. Two thousand sixteen was not a good year, and Thundercat knew it.
Yet, in some ways, 2016 was a great year for Thundercat. He won a Grammy for his collaboration with Kendrick Lamar on "These Walls," from Lamar's 2015 album To Pimp a Butterfly. This year, many of Thundercat's friends and collaborators will return to the awards show again: Terrace Martin, nominated for Best R&B Album for Velvet Portraits; Lamar, again, nominated for Best Rap/Sung Performance with Beyoncé for "Freedom"; King, nominated for Best Urban Contemporary Album for We Are King. Thundercat, for his part, will be on tour for much of 2017 — earlier this month, he announced a run of dates that will take him from San Francisco in February to Brussels, Belgium in April. (Later, onstage at Day for Night, he also teased an upcoming solo project. "I'm not going to talk about it," he proclaimed.)
His Grammy win has made Thundercat a collaborator very much in demand (he has worked on projects with Lamar, Flying Lotus, Kamasi Washington, Terrace Martin, Erykah Badu, and Suicidal Tendencies), to the point that his purported Midas touch has become farce. "'Featuring Thundercat' is this ongoing joke with my friends," he said. The Los Angeles Times referred to him as "one of Lamar's secret weapons"; Rolling Stone, the "jazz-fusion genius behind Kendrick Lamar's 'Butterfly.'"
After the Grammys, Thundercat retreated from the spotlight; he hasn't toured much this year, and he released one single, August's "Bus in These Streets," an ode to the pitfalls of technology (like phones that explode in your face). "Bus in These Streets" is a bright, twinkling track juxtaposed against somber, introspective lyrics, a direct product of the cascade of bad news that has seemed to haunt 2016.
He has a tendency towards gallows humor: "It's like Stephen King directed this whole entire year," he said with a sharp laugh. "Anybody else want to just die real quick?" At that, his keyboardist Dennis Hamm entered the trailer, cracked a beer, and the whole thing fizzed up in his face. Thundercat burst into laughter again: "There we go."
"This whole year has been me sitting here trying not to burst into flames," he went on. Still, there was some promise on the horizon: "I'm looking forward to seeing music step up," he said. "I'm looking forward to people trying to find love in a really messed-up place right now, people seeing a bit further than themselves."
At Day for Night, he played Houston for the first time as a solo act — he was here previously with Erykah Badu and Flying Lotus — in his penultimate gig of 2016. "Rest in peace, 2016," he announced onstage, before launching into "Lone Wolf and Cub," a track off his 2015 EP, The Beyond / Where the Giants Roam. He wore a black, long-sleeved t-shirt with a Punisher logo appliquéd across the front, black jeans slung low, and white Birkenstock sandals. He had contemplated wearing a knit hat with ewok ears, but after seeing Star Wars: Rogue One the previous night, he wasn't sure how he felt about it after all. His stage looks can tend towards elaborate ensembles — a wolf-pelt headdress, chain mail, space-age shoulder pads. At times, he can resemble one of the Marvel characters that he so reveres (his stage name is a direct reference to the ThunderCats series that ran throughout the latter half of the '80s; his first album The Golden Age of Apocalypse is a reference to Marvel's "Golden Age"). But then, he'd have to confront the TSA, one of his banes, saddled with a suit of armor.
There's really no way to describe Thundercat's playing other than virtuosic — impossibly nimble, his fingers skitter over the six-string Ibanez bass that bears his name — and there's probably no Thundercat song that, played live, doesn't evolve into a tearing solo. Three-minute tracks stretched longer and longer as he, bassist Dennis Hamm, and drummer Justin Brown enter a musical fugue state, rain drizzling gently down on them in the 80-degree Houston heat.
See W's most popular videos: