It's All About Muzungu Sisters
Founders Tatiana Santo Domingo and Dana Alikhani talk about personal style, the brand, and their NYC pop-up.
---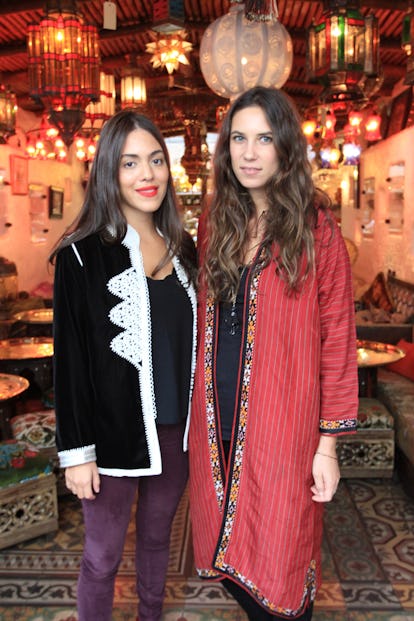 Luxury brand Muzungu Sisters has captivated the fashion pack with its ethically-sourced handmade clothing, bags, and accessories from around the world—but the two women behind it are style stars in their own right. Since 2011, Tatiana Santo Domingo and Dana Alikhani have been selling their wares, hosting pop-ups around the globe, and collaborating with the likes of Missoni and Delphine Delafon. Between their latest collaboration with Olympia Le-Tan and opening their New York pop-up this weekend, Santo Domingo and Alikhani take a moment to talk personal style and fall must-haves.
Describe the Muzungu Sisters customer in three words: Santo Domingo: Curious, adventurous, colorful.
What are your favorite pieces in the pop-up store? Santo Domingo: Pom Pom Michila and Olympia Le-Tan x Muzungu Sisters Brazil clutch. Alikhani: The new Sicilian Basket with red pom poms, Ikat Venetian slippers, and OLT x Muzungu Sisters Iran clutch.
Preferred footwear: Santo Domingo: Barefoot. Alikhani: Muzungu Sisters Ikat Venetian slippers, Aquazzura Coachella boots, and Stubbs and Wooton.
Finishing touches: Santo Domingo: Red lipstick. Alikhani: Sunday Riley face oil, red lipstick, and orange blossom from the souk in Marrakech.
Nighttime look: Santo Domingo: I don't make it out at night much these days! Alikhani: More or less same as day but with red lips and heels.
Three pieces every woman's wardrobe needs: Santo Domingo: A good pair of jeans, a pair of Charlotte Olympia heels, and a Muzungu Sisters shawl.
Best recent discoveries: Santo Domingo: Makie store at 109 Thompson Street in New York. Alikhani: Green Tea Mille Crepe from Lady M. I always loved the vanilla version, but the green tea is a recent discovery I almost wish I hadn't made.
Lusting after: Santo Domingo: Theiya Obscura pendant by Venyx. Alikhani: A traditional Ukrainian vyshvanka by Vita Kin.
Style pet peeve: Santo Domingo: Sandals worn with socks.
Favorite haunts: Santo Domingo: Bar Pitti and Indochine in New York, Ferdi in Paris, and Maggie's Club in London. Alikhani: Trishna in Bombay, Kiki's Tavern in Ayios Sosti Mykonos, Pepper Crab in Dubai, Gymkhana in London, and Bar Pitti, Le Colonial, and Shake Shack Madison Square Park in New York.
What's always in your bag? Santo Domingo: Hand sanitizer and my phone. Alikhani: iPhone, Tarte lip crayon, Topsy and Tim book for my son, and Honest Company travel wipes.
Muzungu Sisters Pop-Up is open December 17th through the 19th at 402 West 13th Street in New York.
Photos: It's All About Muzungu Sisters