MTV's My Super Sweet 16 Gave Us Teyana Taylor and Soon It Will Give Us Spoiled Social Media Stars
The hit 2000s reality show is making a comeback, using the app Music.ly to cast social media savvy teenagers.
---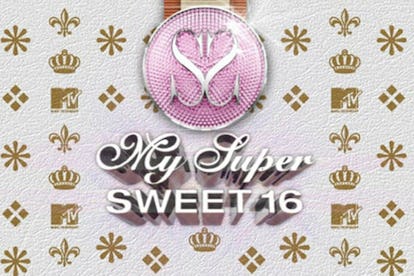 If you were a teenager (or acted like one) anytime between 2005 and 2008, chances are you watched MTV's My Super Sweet 16, the reality show that highlighted spoiled brats on their favorite holiday: Their birthdays. In its three-year run, the show gave us young celebrities like Bow Wow, Sean Kingston, Chris Brown, Soulja Boy, and Teyana Taylor. Plus many tears, tantrums, and "surprise" cars with giant bows on them.
And nine years later, the party's still not over. In January, MTV announced that the show would be returning once more, with a few changes. And today it was revealed exactly how and where you can sign up. [Squeals.]
According to the first casting email from MTV, My Super Sweet 16 will now include quinceañeras, debutante balls, social debuts, or "any other coming of age milestone event," opening the flood gates to anyone ages 13 and up. (This means that they could have been five when the original ****aired.)
"If it's going to be lit, we want to know about it!" the email concluded.
Today, it was announced that the show will be casting via Musical.ly, the lip-synching app teenagers have been going gaga over since it launched in 2014. (It currently has over 90 million registered users.) Savvy coming-of-agers are encouraged to submit My Super Sweet 16 entry videos using the hashtag #MySuperSweetAudition, and as of Wednesday afternoon, there were already well-over 10,000 submissions.
One girl named Natalie in a purple flower crown says she plans to "roll out a red carpet" and have her friends model or "act like actors." She's also going to ask her family to play paparazzi. The event will involve a lot of sitting, "maybe on a couch," and then conclude with some "delicious panini sandwiches with cheese." It seems the kids at least still have their priorities straight.
While the reboot sounds great, there's one thing that can never be replaced: The original's opening song by Hillary Duff. In "Sweet Sixteen" she coos that this particular milestone is about spreading your wings. It's your chance to shine! But also discovering that there's "so much more to life." Amen.
Related: What 25 Famous Women Wore to Their Birthday Parties
Watch Twin Musical.ly Stars Lisa and Lena Dance to Rihanna