Exercise in Humility: My Workout with Gwyneth
P.T., or pre-Tracy Anderson, my dance moves had been confined to wedding receptions and dinner parties gone wild. [See "Gwyneth, Madonna and Me" in the May issue.] But to get the numbers on the scale...
---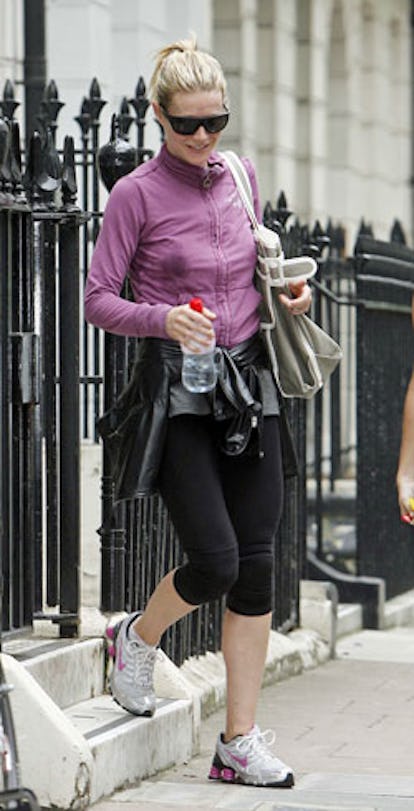 One morning, as I'm in the middle of doing my "standing abs" (it involves sharply rotating your torso in unnatural directions) with trainers Vanessa Kiely and Courtney Ortiz, Tracy glides in with none other than star pupil Gwyneth Paltrow.
Red-faced and feeling rounder than ever, I am introduced to the ponytailed star, who, in her leather jacket and skintight jeans, still looks like the coolest high school senior at Spence. Tracy explains to Gwyneth that, like the two of them (the 97-pound Anderson actually does like to eat), I don't exactly enjoy dieting. The actress nods sympathetically, offering that it took her a year to get 30 post-baby pounds off, and that it only really happened once she was able to do 45 minutes of non-stop cardio.
Minutes later, Gwyneth reappears in her workout gear — kelly green t-shirt, black spandex, knee pads and enormous cross-trainers — to start her session. I offer to move to the studio down the hall, as I know privacy is a concern, but am told it's not necessary. As the trainers and I start to dance, Tracy and Gwyneth decide to join us.
As you might expect, there is nothing about dancing three feet away from Gwyneth Paltrow that instills confidence. Even though we start with the combination I know best, Gwynnie's moves are heads and shoulders above mine, and she adds twists and turns to dances I thought I knew backwards and forwards. We chasse next to one another for a heart-pounding fifteen minutes, during which time I try to play it cool and not look in her direction, even though all I can think is, "I'm dancing next to Gwyneth Paltrow… I'm dancing next to Gwyneth Paltrow…."
After what feels like an eternity, we diverge to opposite sides of the room, where I resume learning a new combination and she continues bopping away, pausing only to say hello to, yes, Jessica Seinfeld, another Anderson acolyte.
It's now been about six weeks since losing 40.5 inches during my original seven weeks with Tracy. I've continued to work with her trainers three to four times a week, and while I haven't been measured again, I have at least maintained, if not improved upon, my results. Now that Gwyneth is filming Iron Man 2 in Los Angeles, I hear she has a new fitness buddy in co-star Scarlett Johansson. So while I continue to groove with varying degrees of success, my dance card is open.
Click HERE for the full story about Jamie's seven-week Tracy Anderson challenge.