Mystery Man Martin Margiela is Working on a Museum Retrospective
Martin Margiela was always silent, but even more so after he left fashion in 2009.
---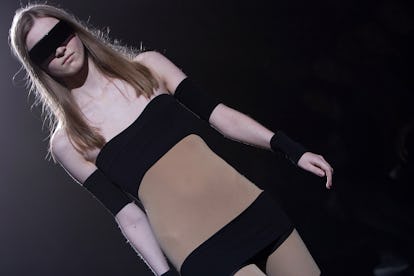 WireImage
Even at the peak of his fashion design career, no one knew exactly what Martin Margiela was up to at any given moment. The infamously reclusive designer not only refused to ever be interviewed but also to be photographed. Only a small handful of public pictures exists of the Belgian mystery man. No one was even sure exactly when he retired. A simple press release was issued in December 2009 simply declaring that he had "left the business."
As for what he's been doing these past seven years? Well, anyone who knows wasn't telling either. Until now, that is.
France's Palais Galliera (AKA The City of Paris Fashion Museum) announced today that Margiela is contributing to an upcoming retrospective of his work at the museum. According to WWD, Margiela is actively collaborating with museum director Olivier Saillardm who is a particularly big fan of the designer, even comparing him to Balenciaga.
"Martin Margiela occupies the same place Cristobal Balenciaga in the history of fashion," he told French magazine Madame Figaro this summer. "Like him, he is the designer's designer, one that his peers cite as an example …Many stylists have revealed to have been influenced by Margiela's work and wore her clothes, from Marc Jacobs to Alexander McQueen."
It should be noted that Margiela is cited as a frequent precursor to Demna Gvasalia, the current creative director of the House of Balenciaga, which brings the comparison full circle. Gvasalia and many of his compatriots at Vetements (his other label) also once worked at Margiela.
Little else is known about the exhibition at this point, but it is news in that Margiela is up to anything at all.
Though before all of that, there will be another Margiela-themed museum exhibition to be held. The designer was also creative director of Hermès from 1997 until 2002. "Margiela: The Hermès Years," an exhibition of his work for the company, will be unveiled in March at MoMu fashion museum in Antwerp. The retrospective will run for through the summer.
As for Margiela himself, the Madame Figaro pieces claims that he still lives in Paris but in almost total anonymity. His fashion house, now known as Maison Margiela, is now under the control of John Galliano.
Watch W's Most Popular Videos: