The Sweet Smell Of Success
Thanks to her treasure trove of crystals, Nadja Swarovski has become a modern-day Medici in the fashion and design worlds. now, with Aura, her new fragrance, she's conquering the beauty business.
---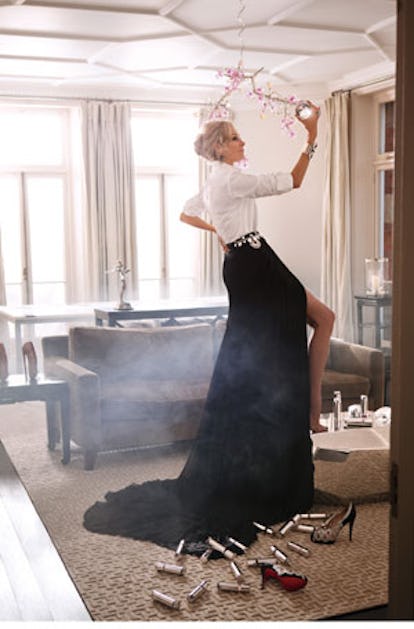 Nadja Swarovski's childhood bedroom, on the second floor of a stucco house with cornflower blue shutters, looks out onto snow-dusted fir trees and a sprawling factory topped with a sign bearing her family's name. It is the Hollywood sign of Wattens, Austria, the Tyrolean hamlet to which her great-great-grandfather Daniel Swarovski immigrated in 1895, after inventing a revolutionary glass-cutting method that he preferred to keep secret from his competitors in the family's native Bohemia.
Today, Swarovski is a $3.5 billion business that employs 29,000 people in 42 offices around the world. It produces everything from jewelry to collectibles, lighting fixtures, watches, sunglasses, and—less ­glamorously—binoculars, rifle scopes, grinding tools, and high-­visibility road reflectors. (The latter are made with glass beads.) Dorothy's ruby slippers in The Wizard of Oz were actually rhinestone, bedazzled with Swarovski crystals. Marilyn Monroe's "Happy Birthday, Mr. President" dress was embellished by Swarovski. The hairpieces, bodices, and tiaras in Black Swan were also Swarovski, as was the beaded fringe that famously shimmied between Tina Turner's legs.
The large canary-colored stone adorning Nadja's left-hand ring finger, however, is not Swarovski. "If it were crystal, it would have been a lot bigger!" Nadja said recently, sitting on a couch in the company's offices in London, where she lives. "When I was dating ­Rupert"—she's referring to her husband, hedge-fund manager ­Rupert Adams, with whom she has three children: Rigby, 7, Thalia, 5, and ­Jasmine, 4—"I made sure to always wear a very large crystal ring," she recalled. She assessed the gem. "Hint taken."
As the communications director, Nadja, 41, is the fast-­talking, hair-flipping public face of the Swarovski clan. On that day, she was wearing dangly earrings that looked like geodes, a black ceramic watch from Chanel, Rock & Republic jeans, and a gray cableknit turtleneck sweater that would not have appeared nearly as fabulously après-ski on a woman who was not almost six feet tall. She has long, coltish legs, attenuated further by her customary stilettos. She chews gum. She hunts. She is given to jubilant malapropism ("We're very frigilent," she told me, when I asked about the family's fiscal philosophy). When she lived in New York, she made it into the papers for dancing atop a table at an uptown gala. But these days, she is a fervent career woman. While her more taciturn relatives were tending to orchids in their greenhouses or tracking chamois amid mountainous rocks, Nadja, who joined the ­company in 1995, was transforming Swarovski into a modern-day patronage machine. The Medicis of the Alps, she and her family underwrite avant-garde art projects like the Crystal Palace, a program for which Zaha Hadid and Ron Arad have designed futuristic chandeliers, and sponsor fashion-­industry events like the CFDA awards. Next up, Nadja launches Aura by Swarovski, the company's first fragrance, in collaboration with Clarins. In conjuring Aura, she sampled hundreds of scents to create a ­lychee-inflected perfume with notes of ­tuberose and pink pepper. "It's the scent of crystals," explained a Clarins spokesperson.
"Pride is a powerful motivator," Nadja says of her drive to buff and shine the family name. Despite the breadth of its operations, Swarovski is still a close-knit concern, owned entirely by family, with 60 hereditary shareholders. In 2011, after years of agitation—she told a reporter that she felt "shunned"—Nadja was appointed to the company's executive board. (Her seat is a source of such pride, and perhaps touchiness, that even her secretary's e-mail signature reads, personal assistant to nadja swarovski, executive board member.) She considers this a vindication of her open-handed approach, which was initially greeted with skepticism by the more conservative factions of the family. "I appreciate the animals," Nadja told Forbes in 2004, of the cutesy figurines upon which Swarovski's reputation, at one point, seemed to rest. "I just don't relate to them." Catherine de Medici's legacy was starting the Tuileries; Nadja Swarovski will be remembered as the cousin who saved the family business from bedazzled iPhone cases and crystal toucans.
Nadja grew up on the Swarovski compound in Wattens, riding her scooter across the factory floor and jumping into piles of quartz sand—a rhinestone heiress's version of living above the shop. Her father, Helmut, oversaw technology and production. Her mother, Danna, an American who had attended boarding school in Switzerland, met Helmut at the 1964 Winter Olympics in Innsbruck, Austria. (Nadja's sister, Vanessa, is a gemologist in Texas.) At the age of 12, Nadja began commuting to Innsbruck on public transportation to attend Akademisches Gymnasium, a prestigious institution. "That school was great," she recalled. "But soon I thought, I really have to have that American experience." So she decided to enroll in an American boarding school, St. Mark's, in Southborough, Massachusetts. "I thought, Permanent sleepover!" Nadja remembered. The experience turned out to be miserable: "It wasn't until I got there that I realized how bad my English really was." Nevertheless, she powered through and eventually studied art history at Southern ­Methodist University in Dallas.
After college, Nadja took a job with Gagosian Gallery in New York; next, she did PR with Eleanor Lambert, and then went on to work with clients like Trussardi and Valentino. One day a delegation of Missonis came to town, and Nadja, who was working on the label's account, was in charge of them. "I, as a European, had to take them around town," she recalls. "I thought, Wait a minute, I also come from a family business." In that moment she decided to join the Swarovski empire, but there was no particular job that fit her talents, so she was sent to Hong Kong for a stint in sales and distribution. She studied Mandarin. "Even to be able to ­exchange a word or two with the shop lady—Oh, my gosh, it was fantastic!" she recalled. More important, she noticed that the ­manner in which the firm's crystals were being sold—­mainly, out of briefcases—did not reflect their quality, nor did it hold any allure for the fashion clientele that Swarovski was used to cultivating. "I thought, There's a niche that's not being tapped into," Nadja said. Her solution was to establish a series of so-called ­Creative Service Centers, to which designers were invited so that they could see and feel ­Swarovski products. After Swarovski opened the first centers outside Austria in 1999, sales spiked dramatically. Soon, Nadja had endeared ­Swarovski's products to such designers as ­Alexander McQueen, who, memorably, used the ­company's crystal mesh fabric in his 1999 spring show to create a twinkling snood. "If there's one person I can credit for ­totally reintroducing Swarovski to fashion, it is ­Alexander McQueen," Nadja said.
It was a suitably dazzling January day—blue sky, bright sun, fresh snow melting into glittering droplets—and Nadja was back in Wattens for board meetings. Running late, she burst into the VIP Lounge of the Kristallwelten, the company museum, fiddling with a (nonbedazzled) iPhone. Her hair was perfectly blown out, and she was wearing a black power suit. For her, country is town, and town is country. Her skin showed a trace of a suntan from the Christmas holidays, which she spent with her family in Vero Beach, Florida, where her ­parents have a house. (Other vacations have found her hunting antelope in Wyoming and riding horseback across the plains of Botswana.) I had just finished a tour of the ­company's corporate headquarters, where even the man and woman stick figures on the bathroom doors are rendered in rhinestones. I learned that Wattens has 10,000 inhabitants, and Swarovski has 5,000 employees there; that the Swarovski Crystal Society, a collector's club, has 325,000 members (Italians, apparently, are especially keen); that J. Lo carried a Swarovski clutch at the Golden Globes this year; and that Swarovski creates the tiaras that crown the heads of the debutantes at each year's Vienna Opera Ball.
Nadja began to talk about her work-life-balance philosophy. "In New York, I had too many colleagues who gave up on marriage and motherhood," she said. "They're now in their 40s, husbandless, childless, and lonely." The comment was not mean-spirited but was typically Swarovskian, echoing the company motto, ja zu allem (Yes to all), which is emblazoned on a sign outside the museum. It reflected the two palpable strands of Nadja's personality: a chatty ­accessibility—she hires a massage therapist for her employees in ­London and stages office tennis tournaments on a Wii, because "strength-building is so important"—coupled with unapologetic ­ambition. No detail escaped her attention as we walked through the ­museum, for which a renovation is planned. "There's a little bit of room for improvement, we say with our lips shut," Nadja whispered, as she eyed a ­slightly cluttered display in the gift shop. We reached a cavernous dining room and sat down for a lunch of lentil soup and spaetzle. "It's kind of a shame there aren't any windows in here, because we've got the most incredible view outside," Nadja said. "So next time: the restaurant with a view."
The following day, Nadja was back in London, where she is the chatelaine of a 2,500-square-foot apartment just off Sloane Square. The space is stylish but unprecious—a ­blossomlike Tord Boontje chandelier (a Crystal Palace number) and a shiny geometric coffee table by Arik Levy coexist with pegs bearing children's raincoats and shelves full of battered ­paperbacks by the likes of Tom Clancy and Jack Welch. Refreshingly, Nadja doesn't feign a tremendous amount of interest in the domestic arts. A good number of the photographs that she has displayed in silver frames are blowups of shots of herself on the red carpet. Nadja's Anglophilic side is represented by a print of a crown accompanied by the words mummy rocks. Still, she confided, she could envision moving to America in the next few years. "I've lived everywhere," she said. "So, for me, the world is really my playground."
Nadja Swarovski at home in London, surrounded by vials of her new fragrance.

Loro Piana's cotton shirt. Jason Wu's silk chiffon skirt. Alexis Bittar earrings; Daniel Swarovski vintage ring; Atelier Swarovski by Karl Lagerfeld cuff; Atelier Swarovski by Jenny Manik Mercian necklace (worn as a belt); Christian Louboutin shoes; her own ring.

Photographer: Benoit Peverelli Styled: Tracey Nicholson
Marios Schwab's wool and silk dress. Swarovski Elements by Marios Schwab belt; Swarovski ring; her own earrings, bracelet, and ring.

Hair by Jason Lawrence for Bloww Hair & Urban Spa; makeup by Shama for Sisley at CLM. Photography assistant: Rodolphe Bricard. Fashion assistant: Beatriz de Cossio Dominguez.

Photographer: Benoit Peverelli Styled: Tracey Nicholson
Loro Piana's cotton shirt. Jason Wu's silk chiffon skirt. Alexis Bittar earrings; Daniel Swarovski vintage ring; Atelier Swarovski by Karl Lagerfeld cuff; Atelier Swarovski by Jenny Manik Mercian necklace (worn as a belt); Christian Louboutin shoes; her own ring. Hair by Jason Lawrence for Bloww Hair & Urban Spa; makeup by Shama for Sisley at CLM. Photography assistant: Rodolphe Bricard. Fashion assistant: Beatriz de Cossio Dominguez.