The Iranian Artist Nairy Baghramian's Bronze Sculptures Are Soft as Skin
Nairy Baghramian caps off a breakthrough year with a major solo exhibition at the Walker Art Center in Minneapolis.
---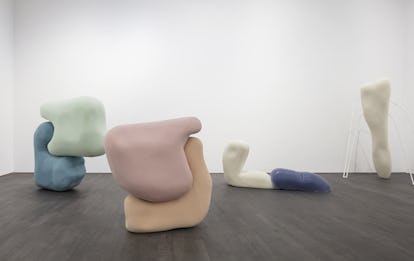 Courtesy of the artist and Walker Art Center, Photograph by Timo Ohler
The human body in all of its forms (and deformities) is a recurring theme for the artist Nairy Baghramian, who tends to talk about her work with the precision of a surgeon. Though her output spans two decades, 2017 has been a breakout year for the Iranian-born, Berlin-based artist, who is in her mid-40s and best known for her mixed-media sculptures. In May, she unveiled a solo show at Marian Goodman Gallery in New York; in June, she was at Documenta 14 in Kassel, ­Germany, and Skulptur Projekte Münster. In September, she takes over three floors of the Walker Art Center, in Minneapolis, for "Déformation Professionelle," her first institutional solo exhibition in the U.S.
Though the survey was originally conceived as a retrospective, Baghramian decided to create new approximations of her existing pieces by revisiting ideas, materials, and shapes she previously used, without reproducing them. Also on view will be a site-specific work in bronze commissioned for the Walker's newly augmented sculpture garden. Painted in pastel colors, it evokes, not surprisingly, the softness and undefined color of skin.
See what's trending on W video: