Back to the Future
The Asia Society celebrates the legacy of Korean artist Nam June Paik.
---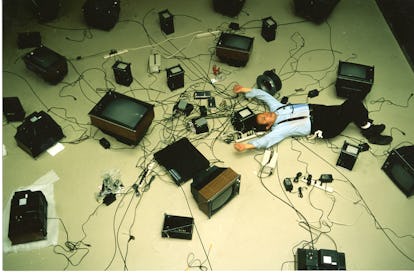 Just five blocks away from the Whitney Museum of American Art's seminal Jeff Koons retrospective, the Asia Society Museum is prepping a major retrospective of another 1980s art world titan: Nam June Paik. Known as the father of video art, the Korean artist pioneered a genre-defying practice that blended science, engineering, and fine art. The first major New York show since his death in 2006, "Nam June Paik: Becoming Robot" highlights his visionary approach to technology and the impact of his mixed-media methods on contemporary artists, especially those working in the digital sphere. "I think by the virtue of the fact Nam June was not a strictly defined painter or sculptor, he suffered a little bit from being perceived as a tinkerer or just a video artist at a time that video was not really a primary medium," says museum director Melissa Chiu, who helped conceive of the show. "What we've come to discover with this exhibition is that he had so many ideas he had about technology that were really decades ahead of his time. "
Examples of Paik's foresight are plentiful—from his TV glasses, which feel like the rudimentary grandfather of Google Glass, to his foray into wearable tech with the TV bikini he engineered for cellist and performance artist Charlotte Moorman in 1969. Manifestos penned by the artist help flush out his fascination with technology as a means of communication and his predictions for the future, including an "electronic superhighway," an Internet-like network for artists—perhaps best realized now by sites like Instagram and Artsy.
While some of Paik's cutting-edge ** inventions look almost archaic (especially when captured through the lens of an iPhone), it is hard to deny their influence. "If you look at artists like Ryan Trecartin, who creates these immersive environments where video is a component, it is very much in the legacy of Paik," says Chiu. "But I don't think this younger generation has made that connection yet." Hopefully, this show will change that.
Photos: Back to the Future
Presentation of Good Morning Mr. Orwell, at the Kitchen Gallery, New York, on December 8, 1983. Photograph © 1983 by Lorenzo Bianda (Tegna, CH).
Reclining Buddha, 1994/2002. Photograph by Ben Blackwell.
Nam June Paik, Kessler TV/WDR, Cologne, 1977. © Friedrich Rosenstiel, Cologne.
Li Tai Po, 1987. © 2007 John Bigelow Taylor Photography, courtesy of Asia Society, New York.
Nam June Paik, Zürich, 1991. © Foto: Timm Rautert. Courtesy Galerie Parrotta Contemporary Art Stuttgart/Berlin.
"Topless Cellist" Charlotte Moorman, 1995. Courtesy Electronic Arts Intermix (EAI), New York.
Paik sitting in TV Chair (1968/1976) in "Nam June Paik Werke, 1946–1976: Music, Fluxus, Video," 1976. © Friedrich Rosenstiel, Cologne.
Transistor Television, 2005. Photograph by Ben Blackwell.