Nana Oforiatta Ayim's Accra
The international curator's insider guide to all the hot spots in the vibrant Ghanaian capital.
---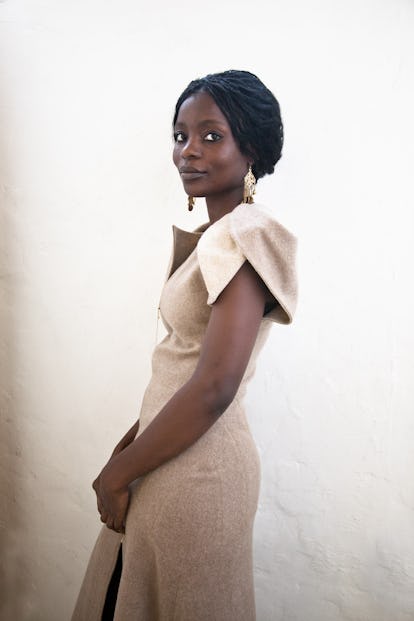 These days, the art world's wandering eye has landed on Africa. While the recent Armory Show in New York is only the latest fair to spotlight contemporary African art, the city of Accra, Ghana, has been home to blue-chip artists like El Anatsui and emerging talent like Ibrahim Mahama. That might be why the international writer, filmmaker, and curator Nana Oforiatta Ayim, who was educated in London and has curated exhibitions at the Liverpool Biennial and the Victoria & Albert Museum, has returned to where she spent her teenage years. As the founder of the pan-African cultural institute ANO and the creative director of the brand-new Gallery 1957, in the Kempinski Gold Coast City Hotel, Ayim is one of the savviest—and chicest—ambassadors of a vibrant young scene.
What neighborhood do you hang out most in? In the daytime Dzorwulu, where I work; and in the evenings Osu, where most of the bars and restaurants are.
Tell me about your neighborhood. It's called West Legon, near the University of Ghana. It's one of the few areas that is still quite green in Accra. The Legon botanical gardens are right behind my house, and almost all of the houses on the street where I live were designed by the visionary architect Alero Olympio. She built the most beautiful homes inspired by indigenous architecture and techniques, and conceived the road as an enclave for creatives.
Describe in three words the style of your home there: Book-filled, airy, serene.
How has Accra changed in the time you were away? It has become much faster-paced, with condos and shopping malls springing up on every corner. I used to come home to get a break from other metropolises, as Accra was so laid-back; now I have to leave Accra for breaks, as it can be so intense. It also used to be quite sleepy culturally compared to places like Lagos. Now it has become incredibly dynamic, especially over the last five years. Local delicacy you can't live without: Kontomire stew and ripe plantain with avocado. Kontomire is a cocoyam leaf quite similar to spinach, which is cooked in red palm oil with tomato, ginger, chili, and sometimes egusi (watermelon seeds) until it melts in your mouth; the plantain are boiled. Altogether, it is the most delicious thing you've ever tasted. Favorite places to see art? Which young Ghanian artists are you keeping an eye on? The Nubuke Foundation, the Foundation for Contemporary Art, Archiafrika Design and Architecture Gallery, and of course Gallery 1957 and ANO. Right now, I'm most excited about young artists Elisabeth Efua Sutherland, Yaw Brobbey Kyei, and Latifah Idriss.
Favorite places to shop? I love to shop at Elle Lokko in Osu and at Untamed Empire in Ridge. They are both concept stores that stock avant-garde Ghanaian and other African designers, such as Monaa, Osei-Duro, Raffia and Kikoti.
Which neighborhood do all the young artists live in: A lot of artists live, or have lived, in the area where my cultural space ANO is, in Dzorwulu. There is the music producer Panji Anoff and his brother the artist Nana Anoff, the musician Wanlov has an occasional home there, the photographer Seton Nicolas and the writer/editor/DJ Kobby Graham, amongst others. Where do artists like to hang out: At Talk Parties organised by Accra dot Alt, which are a kind of movable feast, and happen in different venues. Bar with good DJs: The Republic Bar & Grill, especially on Wednesday nights. They also have very good food and cocktails. Favorite music venue(s) or clubs: Abajo Arts, where the great Hi life musician Kyekyeku recently had a concert, and +233, a jazz club that always has various types of live music. Date night restaurant: It used to be Taverna Tropicana, which was small and dark and atmospheric with occasional live readings and music, but the owner died recently and its future is a bit uncertain. Now it's The Neem Grill, a beautiful garden restaurant with lanterns hanging from the trees. When it's a late, late night, you go to: Rockstone's Office, run by Hiplife originator Reggie Rockstone. What to do when it's really, really hot: Swim.
Best overnight trip while in Accra: The beach at Kokrobite, where you can find live music, interesting people, fresh seafood, and take midnight walks by the sea. Or the hills of Aburi with beautiful views over the city and the clearest, freshest mountain air. They are both about forty minutes outside of Accra. Best beach in Ghana: White Sands, Busua Beach, or Cape 3 Points. Place you go when you need to think and write: The botanical gardens at Legon, which are full with hundreds of different plant and tree types. When you're right in the midst of it, you feel as if you're not quite part of the city anymore.
Local motto/philosophy you live by: E go be.
Hotel where you tell your friends to stay: The Kempinski Gold Coast City, of course. It has an incredible art collection, with works by Serge Attukwei Clottey, Zohra Opoku, Ibrahim Mahama, and others.