8 Iconic Naomi Campbell Moments Still Reverberating Through the Fabric of Culture
From her tumble on the Vivienne Westwood runway to the Dolce & Gabbana she wore to community service.
---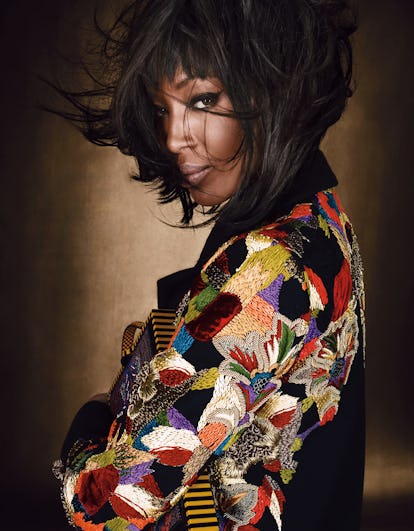 Emma Summert
Overused as it may be, there's no better word to sum up Naomi Campbell's 50 years on planet Earth than "iconic." It's not so much about the awards, of which there are plenty. (See: the CFDA's Fashion Icon Award in 2018.) It's not even about the accomplishments, of which there are also plenty. (See: her 25 fragrances, novel, TV show, and R&B album.) It's about the moments. Campbell comports herself somewhere between a saint and a diva. And somehow, she's carefully maintained that balance since she was discovered at age 14.
If it weren't for the pandemic, Campbell's 50 birthday party would likely go down in history. Instead, the supermodel is spending this Friday logged onto Instagram, live-streaming her workout and posting a birthday tribute to Biggie Smalls. You can't blame her for keeping an eye on which commenters forget it's also hers. Naomi is unforgettable. Here, revisit eight moments from her delightful (and occasionally colorful) history.
The Firsts
"I may be considered one of the top models in the world, but in no way do I make the same money as any of them," Campbell said of her white peers in 1991. To this day, her ads don't run in some countries because of "the color of [her] skin." But in the realm of editorial, she repeatedly made history as the first black model on the cover of magazines like French, British, and Russian Vogue.
The Finale
In 1990, Naomi joined Linda, Christy, and Cindy in lip-synching George Michael's "Freedom! '90" for the fall 1991 Versace show's grand finale. "This is one of those moments when fashion changed forever," the critic Tim Blanks said when revisiting the show in 2013. The stunt took on such a legacy that Donatella Versace enlisted Naomi, Claudia, Helena, and Carla to recreate it for her Gianni tribute show in 2017.
The Fall
Campbell wasn't the first model to take a tumble on the runway. Nor was she last. But 27 years later, her fall during Vivienne Westwood's fall 1993 show remains unparalleled. While mortified at the time, Campbell remained on the floor, grinning, before getting right back up onto her pair of sky-high Westwood platforms. In the nearly three decades since, the pair in question has gone on display in multiple museums, and designers have taken to asking Campbell to fall on their runways, too. As for how things played out with Westwood, there are no hard feelings; she recently looked back on the moment fondly, and cast Campbell in her first-ever Westwood campaign. (Naturally, Campbell took it up a notch by wearing nothing but heels.)
The Dolce
Naomi Campbell: The Naomi Diaries
Byte for Giuliana Teso silver fox fur jacket; Donna Karan Collection cashmere and acetate sweater. Biltmore hat; Alexander McQueen sunglasses.

Photographer: Steven Klein
Marc Jacobs cashmere cardigan; Michael Kors wool flannel pants. Odds boots.

Photographer: Steven Klein
Giorgio Armani silk dress; Michael Kors mink jacket.

Photographer: Steven Klein
Adrienne Landau mink jacket; James Perse cotton tank top; Paige cotton denim jeans. TSE hat.

Photographer: Steven Klein
Zandra Rhodes for Pologeorgis lynx jacket; Etro silk blouse; Chloé sunglasses.

Photographer: Steven Klein
Dolce & Gabbana Swarovski crystal gown.

Photographer: Steven Klein
It doesn't get more Naomi than reporting for community service in a Dolce & Gabbana gown, metallic corset, and stilettos. (She plead guilty for throwing her Blackberry at an assistant in 2007.) "This is how I dress, and this is how I carry myself," Campbell wrote in a diary of the experience for W. "What do they expect me to do, walk in looking all drib and drab? I've never looked drib and drab in my life." She knew the paparazzi wanted a moment, and she gave it to them, making use of the fact that the long driveway to the Sanitation Department was "kind of like a catwalk."
At that point, she'd already established the connection between her legal drama and her image: She wore a shirt that read "Naomi Hit Me… And I Loved It" after eight employees accused her of abuse in 2006.
The Hazmat
When it comes to preventative measures against the coronavirus, Campbell was decades ahead of the curve. (She's been wearing a face mask while traveling since the '90s.) But even for Campbell, the N95 mask, gloves, goggles, and hazmat suit she wore for her March 13 jaunt from LAX to JFK were on another level. Needless to say, her video documenting the process went viral—and possibly saved lives. At least, it got some of its thousands of viewers thinking safety precautions before the era of social distancing.
The Cover
While the rest of the fashion industry was in crisis mode, frantically pondering how to move forward in a pandemic, Campbell had already gotten back to work. Campbell helped Essence celebrate both of their 50th birthdays by photographing herself for the magazine's May/June issue with an iPhone. Oh, she also styled herself (in vintage Chloé by Karl Lagerfeld, no less) and did her own hair and makeup.
The Naming Names
Campbell hasn't just made history as a black model; she's helped countless other black models make history, too. She remains a tireless advocate for diversity in fashion—and for holding the industry accountable. Back in the day, heavyweights like Yves Saint Laurent had her back. (As her fellow supers memorably put it to Dolce & Gabbana: "If you don't use Naomi, you don't get us.") Over time, that changed. So when diversity plummeted down the industry's list of priorities in 2013, Campbell took initiative. Along with Iman and Bethann Hardison, she founded the Diversity Coalition and started naming names. Campbell has continued to do so, taking on the editor-in-chief of British Vogue in 2018.
The Shade
No comment.
Related: Revisit Naomi Campbell's Most Iconic Moments on the Runway Through the Years