Naomi, Naomi, Naomi
In case you missed them, here are the top style stories of the week.
---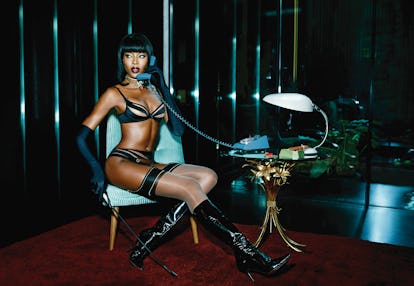 Campbell, Naomi Starring alongside Jourdan Dunn in Burberry's new advertisements, and solo in Agent Provocateur's Spring 2015 ad campaign. Still has it.
Cavalli, Roberto Is now looking to hire a new designer. Hey—Peter Dundas, you available?
Fashion Week Plans to leave Lincoln Center after this February. RIP.
Fivestory
The uptown boutique is opening a brand-new new accessories emporium. Just in time to make a last-minute holiday wishlist.
Hadid, Gigi Is now modeling for Victoria's Secret. What took this so long?
Jacobs, Marc Cast a makeup-less, wig-clad army of supermodels in his Spring 2015 ad campaign. Naomi Campbell not included.
Jolie-Pitt, Shiloh Looked ultra dapper in a tiny suit. Watch out Maddox.
Leggings Declared "Not Pants" by the state of Montana. And by pants manufacturers everywhere.
Lee Simmons, Kimora Is launching a new collection at a higher price point. No jumpsuits included.
Lohan, Lindsay Claims to have stopped dying her hair. Did not discuss this life choice with Oprah.
Mars, Bruno Recently performed on stage with his hair in rollers. This, too, was a decision not discussed with Oprah.
McCartney, Stella Asked artist Petra Cortright to have a confetti party for her Spring 2015 video.
Middleton, Kate Wore a hoodie while pregnant. Broke the Internet.
Minaj, Nicki Now starring in Roberto Cavalli's new ad campaign. No twerking included.
Pica, Lucia Was named the new leader for Chanel beauty. What a gorgeous choice.
Rihanna Named the creative director of Puma shortly after accidentally Instagramming her collaboration with the sneaker brand. Bad gal!
Vauthier, Alexander Is the newest designer to join the Chambre Syndicale de la Haute Couture, making the historic French atelier a whole lot sexier.
Westwood, Vivienne Sent British Prime Minister David Cameron an unusual Christmas gift: asbestos. At least it wasn't coal.
Zero + Maria Cornejo Launches a capsule travel collection with Barneys. Just in time for a warm-weather getaway.