Naomi Campbell Wrote a Rap Calling Out Donald Trump
"You afraid of Kamala's blackness?," the supermodel asked the president in a rap she wrote herself.
---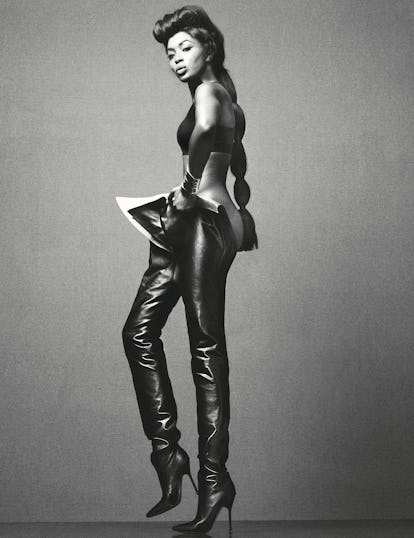 Steven Klein
Naomi Campbell may not be able to participate in Tuesday's presidential election, but the British supermodel has still done more to get out the vote than many American celebrities. And in the final hours before Election Day, she's taking things up a notch. On Sunday, Campbell shared her submission to #45Lies, a self-described "'ice bucket challenge' for lyricists who care about the survival of our democracy." The campaign calls on artists to create 45-second videos calling out a lie by President Donald Trump, soundtracked by an instrumental version of the Honey Drippers' "Impeach the President."
By her own admission, Campbell isn't the most technologically savvy; she's known to correspond with fans who share Google Images advice in the comments of her Instagram. But perhaps it was an artistic decision to forgo musical backing, the better to showcase her evidently impeccable rap skills. (Did she take some notes from Skepta since her 1994 album babywoman, which only found success in Japan?)
The lyrics, which Campbell appears to have written herself, begin as follows: "How you gonna call HER a monster / Is that a MAGA tactic? / You afraid of Kamala's blackness?" It's a reference to Trump characterizing Kamala Harris as a "monster"—a term he's typically reserved for terrorists and murderers—after the vice presidential debate last month. (Her hat, emblazoned with the word "NIGERIA," seems to be a more subtle reference her support for the movement to #EndSARS.)
"Attack what you fear / Black woman / Backbone of the party that's winning this year," Campbell continued. "Yeah her make-up's better than yours / She's not a monster/ she's a Nikki verse / doctor of the law / She's a district attorney / Attorney General / Senate judiciary / She can spot a criminal." After referencing Nicki Minaj's storied verse in Kanye West's 2010 song "Monster," Campbell asked: "Does that hit a soft spot 45? / Is that why you say the sista's unqualified?"
In conclusion, Campbell predicted the election results with confidence: "Smart. Female. Dark is winning this year." Luckily, the super is known to be prescient; she's been wearing a face mask while traveling, for example, for all of 20 years.
Related: Here's Naomi Campbell's Guide to Avoiding the Coronavirus