Naomi Campbell on Supposed Rihanna Feud: "I Don't Have Beef"
Naomi Campbell doesn't want you to think she has a problem with Rihanna. "I don't have beef, especially with black women that I think are powerful."
---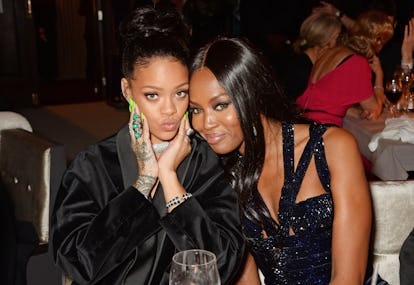 David M. Benett
Andy Cohen's late night Bravo chat show has run for well over 1000 episodes, but last night it may have hit some sort of ideal peak. The guests? None other than Naomi Campbell and RuPaul.
It was exactly as delightful as anyone who would find that configuration delightful would expect. Campbell shared some golden bits of gossip, her insanely encyclopedic knowledge of certain Real Housewives franchises, and stories from her supermodel heyday, all punctuated by RuPaul's signature laugh.
She also wanted to take a quick moment to clear up any idea that she had any sort of feud with Rihanna.
Cohen read a viewer's tweet calling out the fact that it seemed that the supermodel and singer had unfollowed each other on Instagram.
"Is everything Ok between the two of them?" Cohen asked on behalf of the tweeter.
"Everything's fine," replied Campbell before hamming up the possibility of drama for a second.
"I'm an actress now, Andy," Campbell said, with a bit of a smirk. She was quick to clear up any rumors. "I don't have beef, especially with black women that I think are powerful. We're out there doing the same thing, and doing the same struggle."
Rihanna and Naomi Campbell have been notable public supporters of each other, and once shared a Balmain campaign alongside with Iman. There's no other evidence that the pair actually have any sort of problem beyond the high school-level signifier of social media follower-ship, so let's let that be and focus on some of the other highlights.
Like a bit of shade thrown at Madonna by Whitney Houston, Campbell recalled how Houston sung a cappella at Gianni Versace's funeral as she was the designer's favorite singer.
"First when she got in the audience she said, 'I heard I was Gianni's favorite singer, but I never met him,'" recalled Campbell. "And she winked at Madonna."
Oh, boy, seems like a perfect time to use that new Chanel teacup emoji.
Campbell is also apparently a rabid fan of the Real Housewives of both Beverly Hills and Atlanta. Cohen cued up a bunch of key moments from the series to get Naomi's response, and the model was ready with her opinion on matters in a rapid fire manner.
Even if you've never seen an episode of Real Housewives, it's sort of mesmerizing to watch.
"Oh please, I've not worn underwear thousands of time," retorted Campbell to an inquisition about a certain housewife not wearing panties. "Why is it your business? Why do you care? Why do you have to buy me some nylons that is not the fabric I wear?"
Campbell also dodged that bait served up to her to critique today's supermodels. Though, maybe that's not a surprise considering she's a noted supporter of the Hadid sisters, but she did note that social media might makes things a bit "easier" and that girls are no longer discovered randomly out in public like she and other models like Kate Moss had been.
A couple of other random tidbits:
-Naomi, Linda Evangelista and Christy Turlington couldn't stop listening to RuPaul's single "Supermodel" when it came out (in case you're wondering, that Trinity still remains the drag queen's three favorite supermodels).
-She didn't realize at the time how big of a deal appearing on the September 1989 cover of American Vogue (Editor-in-Chief Anna Wintour's first September issue at the magazine).
-Naomi really can't remember the latest she's ever actually been for a shoot at any point in her career. "An hour," she ventured.
-Her favorite model she's ever worked with: Iman, of course.
Naomi Campbell: The First Lady of Fashion
Nina Ricci jacket and skirt; Cornelia James gloves (throughout); Hermès bag.

Photographer: Willy Vanderperre Stylist: Edward Enninful
Giorgio Armani jacket and skirt; Kiki de Montparnasse bra; Nancy Gonzalez bag; Philippe Matignon socks (throughout); Marc Jacobs shoes (throughout). Beauty note: Win them by force of legs with Michael Kors Liquid Shimmer Dry Oil Spray.

Photographer: Willy Vanderperre Stylist: Edward Enninful
Prada jacket and skirt. Beauty note: Speak softly, but carry a sexy pout with MAC RiRi Lipstick in Nude.

Photographer: Willy Vanderperre Stylist: Edward Enninful
Dior coat and skirt; Hermès bag.

Photographer: Willy Vanderperre Stylist: Edward Enninful
Proenza Schouler jacket and skirt. Beauty note: For hair worthy of a head of state, try Aveda Damage Remedy Restructuring Conditioner.

Photographer: Willy Vanderperre Stylist: Edward Enninful
Michael Kors jacket and skirt; Nancy Gonzalez bag.

Photographer: Willy Vanderperre Stylist: Edward Enninful
Azzedine Alaïa jacket and skirt; Nancy Gonzalez bag. Hair by Jimmy Paul for Bumble and bumble; makeup by Fulvia Farolfi for Chanel Beauté. Model: Naomi Campbell at Marilyn Agency. Produced by Mina Allotey, Adwoa Abrafi Ampiah-Kwofi.

Photographer: Willy Vanderperre Stylist: Edward Enninful
Infamous Hollywood Feuds: