Naomi Watts' Gypsy Seems Like The Sexiest Therapist Show Ever
Naomi Watts makes her first foray into prestige tv with Netflix's Gypsy in which she plays a therapist with some dark secrets.
---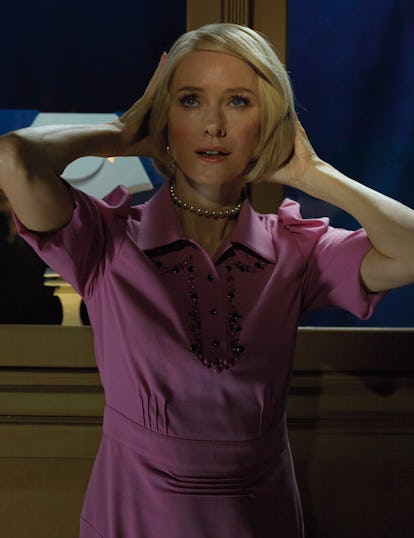 Photographs by Alex Prager, Styled by Patrick Mackie
Naomi Watts is finally dipping her toe into the prestige TV waters with Netflix's upcoming Gypsy. She plays a professional therapist, though, television history is already littered with fictional therapists and psychiatrists. That includes everyone from The Sopranos Dr. Melfi to Frasier Crane and Dr. Katz, and more recently Dr. West on HBO's In Treatment to Lisa Kudrow's Dr. Fiona Wallice on Showtime's Web Therapy. Plus, there's all those TV shrinks. In other words, one has to wonder how Netflix plans to bring anything new to the well worn genre of therapist-centered shows.
The answer we get in the first teaser for Gypsy: the therapist is an unethical sexual deviant! Well, that's certainly one way to up the ante.
Created by young writer and TV newcomer Lisa Rubin, Gypsy follows Watts as a Dr. Jean Holloway, an elite Manhattan therapist married to Michael (played by Billy Crudup). The teaser finds her reciting a spin on the Hippocratic Oath in which she promises to "remain objective in my relationships," not "violate the physical boundaries of the patient" and, of course, that she "will always do not harm."
The monologue is intercut with shots full of intrigue and sex that seem to suggest that she will absolutely do no such thing. There's even a few shots that seem to recall Watts' best-known role in Mulholland Drive.
The teaser trailer doesn't give us much hints as to how this all plays out plot-wise, and the official description only gives us a few more hints. As it goes, Watts' character is "a Manhattan therapist with a seemingly picturesque life who begins to develop intimate and illicit relationships with the people in her patients' lives. As the borders of Jean's professional life and personal fantasies become blurred, she descends into a world where the forces of desire and reality are disastrously at odds."
Sure, there's been more than a few "Oh, I think I have feelings for my therapist" storylines in fiction through the years, but none where the therapist seems to get physically intertwined with the people her patients come to talk to her about. It all sounds very intriguing.
Sam Taylor-Johnson is also onboard as a producer and director of the first two episodes. It's his first project since directing the first Fifty Shades of Grey movie.
Slotted as a 10 part limited series, Gypsy premiers in June. Of course, it won't be Watts' only appearance on a television show this summer. She'll also be one of several famous faces popping up on the new Twin Peaks series.
Related: Michaela Coel's Netflix Show Chewing Gum Is the Gross and Delightfully Rude British Comedy You Should Be Watching
Naomi Watts Takes W's Screen Test:
David Lynch's Heroines Like You've Never Seen Them Before
From left: Chrysta Bell wears Tiffany & Co. necklace. Hailey Gates wears Bulgari necklace. Laura Dern. Naomi Watts wears Robert Lee Morris SoHo earrings; Lagos necklace. Patricia Arquette wears Tiffany & Co. necklace.

Photographs by Alex Prager, Styled by Patrick Mackie. Hair by Giannandrea; makeup design by Fiona Connon; makeup by Levi Vieira for MAC Cosmetics. Set design by Thomas Thurnauer. Lighting Designer: Matthew Libatique; Key Gaffer: Jeffrey Ferrero; Key Grip: Tina Dubbe; Production: Josie Heiman; On-Set Production: Linsday Heimer; Retouching: Contact Photo Lab; Photography Assistants: Tyler Parker, Blake Brent; Fashion Assistant: Diana Choi; Hair Assistants: Jessica Mishler, Nancilee Santos; Makeup Assistant: Emily Jade Elliott; Set-Design Assistants: Aaron Wiley, Cliff Collins; Special thanks to Siren Studios
Blue Velvet, Wild At Heart, Inland Empire, and Twin Peaks (2017) "I hadn't read the script, but I knew the film was Blue Velvet. I was sitting on the floor, waiting to audition, and David walked out. I was startled by every aspect of him. He looked at me, and I was waiting for some magical words. He said, 'I have to pee,' and disappeared. When he came back, we talked about life and high school and meditation, and I was ready to audition—but that never happened. He said, 'Thank you very much,' and I left. Soon after, I got a call saying he wanted to meet me at Bob's Big Boy to see if Kyle MacLachlan and I could get along. We ordered malts and french fries, and David was doodling on napkins while Kyle was doodling with a knife in his ketchup. A girl either thinks, These are bizarre men, or, I am in love with both these people and want to spend the rest of my life with them. Needless to say, I fell in love."

Dern wears a Cartier necklace.

Photographs by Alex Prager, Styled by Patrick Mackie
Naomi Watts wears Bottega Veneta dress; Robert Lee Morris SoHo earrings; Lagos necklace.

Photographs by Alex Prager, Styled by Patrick Mackie
Mulholland Drive and Twin Peaks (2017) "I was in New York and my agent called and said, 'You have a meeting with David Lynch.' I didn't believe in traveling or breaking plans for auditions, but this was David Lynch, and it's not every day that you get that call. So I flew to Los Angeles and went straight from the plane to meet him. David had that intense ear-to-ear grin, and he was smoking up a storm. He said, 'How's your day? Tell me everything!' I was at a point where I'd been auditioning for 10 years and people would barely make eye contact, but David was genuinely interested in me. I was there for 40 minutes. When I left that room, I thought, No matter what happens, I had a great meeting with a legend."

Watts wears a Bottega Veneta dress; Robert Lee Morris SoHo earrings; Lagos necklace.

Photographs by Alex Prager, Styled by Patrick Mackie
Lost Highway "During Lost Highway, I would ask David, 'Am I playing two different people? Is one of them a ghost? A hallucination? Are they both real? What am I playing here?' And he'd reply, 'I don't know, Patricia. What do you think?' So I had to come up with a whole concept of what I thought Lost Highway was about. I decided to model these two characters after Salome and Jezebel, in the Bible. At some point, I told David that one should have dark hair and blunt-cut bangs like Bettie Page. David said, 'Who is that?' I turned him on to the famous nude pinup. David was like, 'Wow. Bettie Page. She's the bee's knees.' "

Arquette wears a Tiffany & Co. necklace.

Photographs by Alex Prager, Styled by Patrick Mackie
Twin Peaks (2017) "When he works, David Lynch uses a megaphone. Even if there are only three people in the room. I really like that kind of commitment. He'll have a cigarette hanging out of his mouth, and he'll say, through the megaphone, something like, 'I need a little more danger in her face.' At one point, he felt the table in front of me wasn't quite dirty enough. He was on the megaphone: 'Can I get some Bisquick?' Someone came right over with the Bisquick, and David started rubbing a paste of gunk over the table. The cig was still hanging out of his mouth. That was one of my favorite moments."

Gates wears Theodora Warre earrings; Bulgari necklace.

Photographs by Alex Prager, Styled by Patrick Mackie
Twin Peaks (2017) "For a long time, I felt like I was swimming in a different lake than everybody else. I would look around me and think, Hmm, maybe I'm not from this land; maybe I should try and venture into some other dimension. I think that is one of the reasons that David and I get along. He functions in all these juicy, mystical, esoteric dimensions. When David asks me to be a part of things, it's always a bit mysterious. Twin Peaks was no exception: He approached it with a little twinkle in his eye. I couldn't do anything but say yes excitedly."

Bell wears a Balmain dress.

Photographs by Alex Prager, Styled by Patrick Mackie
From left: Patricia Arquette wears an Akris jacket and skirt; Tiffany & Co. necklace. Hailey Gates wears a Norma Kamali swim dress and skirt; Theodora Warre earrings; Bulgari necklace; Michael Kors Collection belt; Manolo Blahnik shoes. Chrysta Bell wears a Balmain dress; Tiffany & Co. necklace; Rochas shoes. Laura Dern wears a Monse dress; Cartier necklace; Manolo Blahnik shoes; her own ring. Naomi Watts wears a Bottega Veneta dress; Lagos necklace; Paul Andrew shoes.

Photographs by Alex Prager, Styled by Patrick Mackie