Nastya Sten Loves to Read, Admires Brigitte Bardot
The model reveals her beauty secrets.
---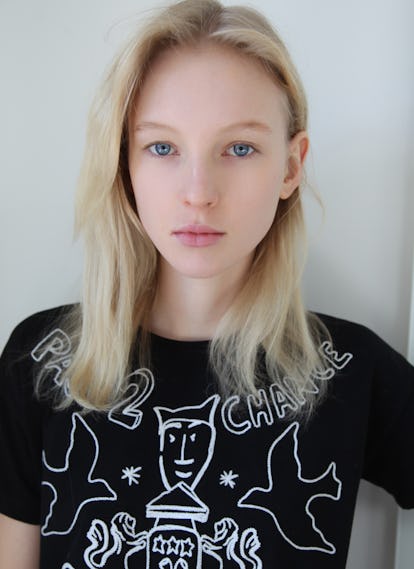 Model Nastya Sten got playful in Tim Walker's "Toyland" for W's April 2014 issue and struck a pose with her posse in W's February 2015 story "La Clique, Ce'st Chic." Here, the Russian beauty shares the tips she's picked up on set—as well as the workout routine that helps her relax.
Define your look in three words: Easy, chic, sophisticated.
5-minute routine: 2 minutes to make a perfect coffee, 3 minutes to enjoy it!
Never leave the house without: A book.
Beauty from the inside out: I believe that beauty is a matter of confidence and health. Sleep well, eat healthy and take care of yourself. Eliminate all aggressors.
Exercise regime I recently started doing yoga. It is a perfect activity to stay fit both mentally and physically. It helps me to relax yet also keeps my body toned.
To cleanse or not to cleanse: I believe it is a matter of preference. I have my only-raw-veggies days every month, yet I never starve myself, because I know my body still needs nutrients even on detox days.
Beauty essentials: I use soap from a Japanese brand called Wamiles and then refresh my face with tonic—floral water from Jurlique is magical for your skin! After that, I put on some moisturizer from Dr. Alkaitis.
Skincare secret: I've discovered washing my face with apple cider vinegar, which I mix with water. It helps reduce minor acne and brightens in general.
Hair remedy: My main secret is a mask made of mashed avocado mixed with a drop of Burdock oil. I let it stay on for 20 minutes and it makes my hair shiny and healthy, reducing the dryness.
In-tub must-read: I would say some classical literature for a "brain massage", I prefer Dostoevsky and Nabokov.
Spa-cation: In New York, I usually go to Great Jones Spa. They have a variety of great treatments as well as nice water lounge.
Fragrance of choice: Depending on the mood and occasion, I use Chanel Chance, Narciso Rodriguez or Jo Malone.
Best advice from mom: Chamomile ice cubes to reduce puffiness under your eyes in the morning.
Beauty icons: Brigitte Bardot—her charm and sense of style inspire me to try new things while remembering the elegance of classics.