Everything You Need to Know About Natacha Ramsay-Levi, Chloé's Rumored New Creative Director
Chloé has reportedly named Natacha Ramsay-Levi as it's next creative director. Here are eight things to know.
---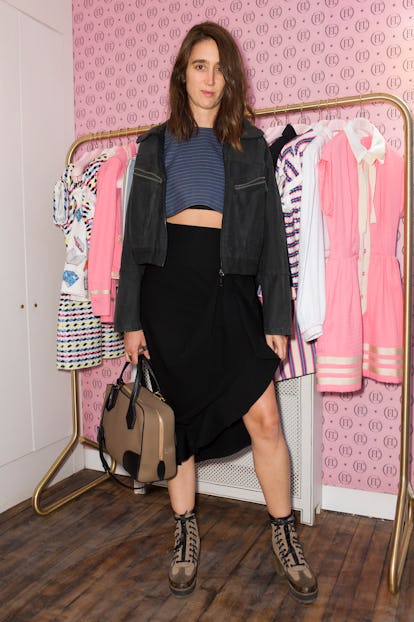 To say the role of creative director at Chloé has a reputation as a star-maker may be a bit of understatement. Phoebe Philo, Stella McCartney, and Karl Lagerfeld are all alumna of the brand. Now, Reuters is reporting Natacha Ramsay-Levi is the newest designer to fill the role, following the planned departure of current designer Clare Waight Keller.
Yes, it's the first move in 2017's edition of fashion musical chairs, and one that will likely be closely watched (Richemont, Chloé's parent company, has yet to confirm the move). Not just because of what she'll do with Chloé, but what this means for the house she departs, Louis Vuitton. As Louis Vuitton's design director, Ramsay-Levi is Nicolas Ghesquière's chief lieutenant (a role she also filled during much of Ghesquière's reign at Balenciaga as well).
Here are eight things to know about Ramsay-Levi and what the move may mean.
1. She wanted to be a historian, but Ghesquière's work made her fall in love with Fashion.
"Actually, I wanted to become a historian," she told German Interview. "But then I came into contact with the fashion of Balenciaga and threw everything aside before my studies started. The silhouette! The girl that Nicolas Ghesquière had in mind! I really wanted to be a Balenciaga girl: young, cool, androgynous."
2. Her first job in fashion was making coffee at Balenciaga
"I applied for an internship in the studio in 2002," she continued. "They told me that I would do nothing else but to cook coffee and sort documents. But I did not care."
3. She's Now Ghesquière's Integral Right-Hand Woman
According to Reuters, Ramsay-Levi's key roles at Louis Vuitton are both as Ghesquière's "go-between" and the person who helps turn his design inspirations into actual clothes.
"As design director, she was the only person the studio's designers and assistants regularly spoke to, as Ghesquière rarely interacted with them directly, former studio employees told Reuters."
Quite a step up from coffee girl.
4. She has a son with Purple magazine editor and photographer Olivier Zahm
Ramsay-Levi and Zahm maintained a relationship for years, but the pair broke up in 2010. Zahm took to Purple's notoriously risqué diary section on its website and blogged about the breakup like he was a LiveJournal user circa 2005. The incident caused a titter amongst fashion gossips, New York magazine kept a tab on the latest developments, and even The New York Times took an interest. Eventually, the pair got back together and had a son, but it's unclear what their relationship status currently is. Apparently, they learned to keep things a bit more private.
5. She has quite the Instagram account.
Ramsay-Levi keeps an active Instagram account, but seems to take a page out of the Alessandro Michele social media playbook. She prefers to 'gram dreamy images of her travels and pops of inspiration that catch her eye. Though, there are more than a few shots of her son as well. She is a mother after all.
6. She'll probably take Chloé in a new direction
The fashion house has always had an emphasis on flowy, feminine silhouettes, but Ramsay-Levi's work with Ghesquière has more of a hard-edged vibe.
"Citing the success of Hedi Slimane at Yves Saint Laurent and Demna Gvasalia at Balenciaga, fashion consultants argue that a new artistic direction, if thought out well, can be good for a brand because it gets consumers' attention and can help boost sales," reports Reuters.
7. She may have once been considered for the Balenciaga gig herself
According to a 2012 report in The Guardian, she was once considered to succeed Ghesquière at Balenciaga. Of course, the role ultimately went to Alexander Wang, and Ramsay-Levi ended up following her boss to Vuitton.
8. In any event, she won't make her bow until Fall.
Ramsay-Levi is still under contract at Vuitton through the next collection. So is Waight Keller's current contract at Chloé (she's said to be leaving the job to spend more time raising her family, so it's relatively amicable split). So, Ramsay-Levi won't debut her first full collection for the brand until next Fall.