Chloé's Designer Natacha Ramsay-Levi is Stepping Down
For up-and-comers, the departure presents an opportunity to follow in Karl Lagerfeld and Phoebe Philo's footsteps.
---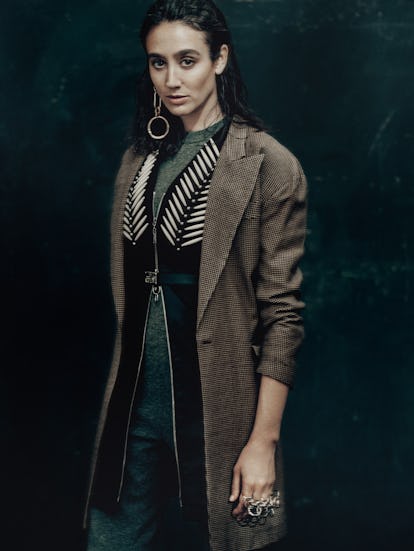 Photo by Paolo Roversi, styled by Camille Bidault-Waddington
This year's rare lull in designer musical chairs has officially come to an end. On Thursday, Natacha Ramsay-Levi made an all-caps announcement on Instagram: "TODAY I AM STEPPING DOWN AS CREATIVE DIRECTOR AT CHLOÉ," a role she took on in 2017. "Over the last months of health, social, and economic turmoil, I have thought about the changes I want to see in our industry and how to better align them with my own creative, intellectual, and emotional values," Ramsay-Levi added in a press release. "It is this reflection that makes me consider my future differently and desire to pursue new opportunities."
For up-and-coming designers, Ramsay-Levi's departure opens up one of the industry's most coveted slots. When the house's founder, Gaby Aghion, recruited a then-unknown Karl Lagerfeld in the 1960s, it established a pattern of star-making. He was succeeded by a then 25-year-old Stella McCartney, who passed on the role to the beloved former Céline designer Phoebe Philo in 2001. Ramsay-Levi's predecessor, Clare Waight Keller left for Givenchy where she famously designed Meghan Markle's wedding dress.
A Look Back at Chloé's Revered Designers, From Karl Lagerfeld to Stella McCartney
Today, Karl Lagerfeld is a household name. (His black and white silhouette is almost as recognizable as a quilted Chanel bag.) However, back in April 1972, that was not the case. Lagerfeld joined maison founder Gaby Aghion at Chloé in 1964, and designed under the label, as well as for Fendi (and the occasional theatrical production) well into the '70s.

Getty
From 1975 onward, Lagerfeld was sole designer of Chloé. Here he is in 1979, on the phone with bolts of fabric awaiting his review. (Notably, he styled his hair in the late '70s as he still does today.) Lagerfeld would go on to debut his first collection for Chanel in 1983, a label that would make him, and the dusty house, famous.

Getty
In 1987, Martine Sitbon joined Chloé, and over the course of five years continued to promote the house's sweet femininity. She also introduced influences such as menswear and cabaret, while at the same time designing for her namesake brand. As the first female designer of the French house since Aghion herself, Sitbon ushered in a new era, casting the biggest models of the day—Linda Evangelista, Christy Turlington, Claudia Schiffer—in her runway shows. Sitbon would go on to launch the well-loved Rue de Mail in 2006. In 2012, she was named a Chevalier de l'Ordre National du Mérite.

Getty
It seems as if Karl Lagerfeld had a soft spot for his first job. In 1992, he returned to the maison, cementing the free-spirited vibe as central to the Chloé girl's look. For the spring 1997 collection, he cast supermodels Kirsty Hume, Nadja Auermann and other '90s favorites to walk in his show.

Getty
In 1997, Stella McCartney was named creative director of Chloé. At age 25, she was the youngest to be appointed head of the French house. Fresh out of Central Saint Martins, she had created only two collections prior to taking the helm at the brand.

Getty
McCartney had much success at Chloé, although many doubted her skill and dismissed her as simply a rock-and-roll star's daughter when she was first appointed her position. But her menswear-inspired pieces ended up anchoring the softer side of the house. Here, McCartney takes a lap around the runway arm in arm with Naomi Campbell, a year before she would go on to launch her namesake label. McCartney now operates over 51 freestanding shops and sells her collection in more than 77 countries.

Getty
In 2001, Phoebe Philo took the Chloé reins from her former Central Saint Martins classmate. Here, her finale bow at her debut runway show.

Getty
Phoebe Philo experienced great success at Chloé, and had the leading models of the day—Gemma Ward, Raquel Zimmerman, Caroline Trentini, and Erin Wasson—walk her runways, like her fall 2005 show. Earlier that year, Philo introduced the Paddington bag—arguably, the first It bag. Three years later she would go on to head up another French house, Céline—where she, and the label, became not only a go-to, but the only brand for the chic, cool, no-frills girl.

Getty
Clare Waight Keller designed knits at Gucci and led Scottish knitwear label Pringle before coming to Chloé in 2011. Keller honed in on a certain aspect of the Chloé girl, and that was the label's '70s bohemian feel. Like Philo before her, she introduced two bags that became must-haves, the Drew and the Faye.

Getty
Natacha-Ramsay Levi, who headed up the brand since March 2017 as creative director and announced her plans to step down today, takes a bow at her final Chloé presentation for fall 2020 this past February. The standout show, which featured artworks by Marion Verboom, was an example of a fashion designer-artist collaboration done right.

Photographed by Dominique Charriau/WireImage
Ramsay-Levi accompanied Gwyneth Paltrow to the 2019 Met Gala as her de facto date. Paltrow had this lemon chiffon dress custom-made by the designer, and her lifestyle brand Goop partnered with Chloé on a capsule collection of clothing the same year.

Photographed by Dimitrios Kambouris/Getty Images for The Met Museum
Whereas Keller's Chloé was particularly popular among celebrities, Ramsay-Levi made a point to dress women for the everyday. Tellingly, she cast a model slightly outside of the waifish runway norm to open her debut runway show in 2017. "What me walking for Natacha represented was a woman designer really embracing a young woman who doesn't look like she has the body of a 14-year-old boy," the model, Sophie Koella, told W at the time. "It was about taking, I think, a strong feminist [stance]."
Nicolas Ghesquière had a heavy influence on Ramsay-Levi's proudly "bohemian" vision, which was full of exaggerated silhouettes, unexpected color combinations, and clashing prints. She worked with the French designer extensively, for 11 years at Balenciaga and three-and-a-half at his current house, Louis Vuitton. Where she'll take that vision next remains to be seen. As for her successor, Chloé doesn't seem to be in a rush. The house has simply promised an announcement "in due course."
Related: Chloé Has a History of Turning Designers Into Superstars–Just Ask Karl Lagerfeld and Stella McCartney