Natalia Castellar Wishes She Embraced Her Eyebrows Sooner
The 17-year-old Mansur Gavriel model Natalia Castellar was bullied growing up, but is now a rising star in the fashion industry.
---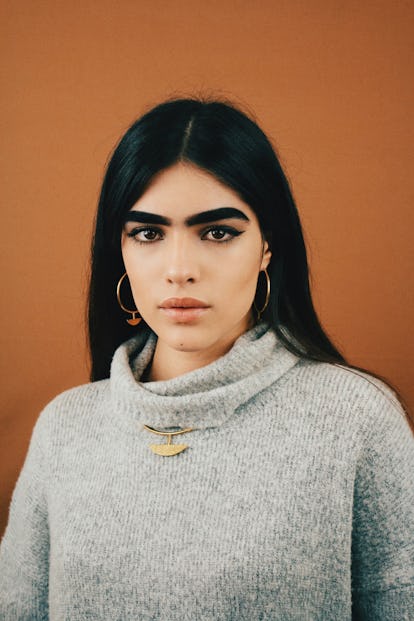 Bianca Calvani | BVCC Photography
While models are often celebrated for the qualities that make them so unique — gap teeth, unusual height — those can also be the traits that made them insecure as teenagers. In the case of 17-year-old Natalia Castellar, it was her distinctly thick eyebrows.
"When I was younger they were all anyone would point out," says Castellar about her brows. She was so harshly bullied, that she almost shaved them off — but her mother stopped her just in the nick of time. Thanks to her sister, who is a photographer, she's gained a following on Tumblr and Instagram and is venturing into the modeling business. She's currently not signed and is still finishing up high school in Virginia, (she was born in Ponce, Puerto Rico), but in her spare time has done shoots on the side for smaller brands, and most recently got her big break with NARS and Mansur Gavriel.
"It wasn't until thick brows started trending that I started feeling more confident," recalls Castellar. Models like Cara Delevingne have paved the way for girls with big brows in the past few years. But Castellar continued: "Now I don't care if they stay trendy or not, I love my eyebrows. They set me aside from other models. They're my trademark, and I wish I would have embraced them sooner."
When did you first start gaining a following? I first started gaining a following when my sister, Bianca, started uploading our shoots on her Tumblr. She has a large following on her photography blog, so a lot of our favorite shots from jobs that we've worked on have thousands of notes, but it all went crazy when Paper magazine reblogged us.
People often comment on your brows. Did people comment on them growing up? When I was younger they were all anyone would point out. I was bullied terribly because of how thick and long they were, so I wanted to shave them down. One day I was about to shave them until my mom interrupted me. (Thanks mom!) It wasn't until thick brows started trending that I started feeling more confident. Now I don't care if they stay trendy or not, I love my eyebrows. They set me aside from other models. They're my trademark, and I wish I would have embraced them sooner.
How do you deal with comments on Instagram? A lot of trolls leave nasty comments about my eyebrows, but I don't give in and respond, because that's what they want. I just disabled my notifications. I want my social media to stay as positive as possible!
Where did you grow up? Are you currently in school? Yo soy Boricua! I'm from Puerto Rico. I'm currently a junior in high school, and right now I'm just modeling. Every offer comes up so randomly, so I feel like it'd be hard to find stability if I worked for someone else. My availability changes constantly, but that's fine with me. I work on my own watch, so that's really convenient. I can pick and choose what I do and don't feel comfortable doing.
Did you always want to be a model? I've wanted to model since I was nine, when I started watching America's Next Top Model. I was so in love with the idea of being able to dress-up, travel everywhere, and take on different personas for different types of shoots. I hope that I continue to get these amazing opportunities, because I feel like I have something to offer! If things don't work out in the long run at least I'll be able to look back at this moment and be like, "Damn, I was so cool. What type of teenager gets to say that she's worked with (so) and (so)?"
Who are your style icons? I find inspiration for style and beauty in everyone and everything. It's nice to take a moment and admire how different individuals decide to express themselves through what they wear. Someone who I really look up to is Harry Styles though. His style ranges from minimal to chic, which I love because it's versatile. Sometimes he's feminine, sometimes he's masculine. He's not afraid to let labels define him or try something new. His style sometimes reminds me of my own. I'd like to think that my style is just as unique as his.
What is something about you that may surprise people? I don't do anything to my brows! Many people assume that I have an eyebrow routine that I follow, but I really don't do anything besides brush them. Although it's not much, I think that brushing your brows is just as beneficial as using nourishing products. Brushing stimulates growth, and it helps with circulation.
What does your daily uniform look like? A typical outfit for me would involve some sort of patterned jacket, a turtleneck, and either high-waisted jeans or flowy, flared pants. If I'm feeling extra snazzy, I'll wear some heeled boots too. If I feel lazy, I'll just wear tennis shoes. No matter what I wear I always try to make it look effortless. I don't want to overdue an outfit unless I'm going somewhere really nice or I'm meeting someone important.
And your favorite accessories? I'm really into rings. I wear rings almost every day, so when I forget to wear them I feel naked. All of the rings that I own have belonged to my grandmother or great-grandmother, so they have a lot of meaning to me. Apart from my rings, I love my glasses. I'm a huge fan of the vintage look, so I prefer round frames.
What is your step-by-step beauty routine? I wash my face with the Cetaphil Daily Facial Cleanser every morning and night. I recently started incorporating the Sunday Riley Luna Sleeping Night Oil into my routine as well, and I use Frank Body coffee scrubs to exfoliate my face and body. I have sensitive skin, so I try to keep the amount of products that I use to a minimum. As for makeup, I use a mixture of drugstore and high-end products, but the Anastasia Beverly Hills Dipbrow Pomade is always my go-to for my eyebrows!
What are your preferred nail and lip shades? I love nudes! I always go for nudes on my lips, and for nails I tend to go for dark, pastel colors. Depending on what season it is I'll use colors that compliment my environment or are in-style. It's fall, so right now I'll be using a lot of dull colors. I go for that grandma-chic look!
You used to have bangs. Why did you grow them out? When I had my bangs I felt like I was stuck in the '60s or '70s. I'd wear bellbottoms almost every day with colored turtlenecks. That was a sick phase for me. Many people would tell me that I looked like Velma from Scooby Doo and I thought it was cool. Even when I told myself that it was over for my bangs, I'd find myself picking up scissors and cutting them back up. It was really hard for me to grow them out. I had to hide all of my scissors. Bobby-pins became my best friend!
What is your hair routine? I use a deep conditioner to keep my waves healthy and I try to stay away from using heat. Other than that, I don't have a specific routine that I follow. I've been asked this so many times that I'm starting to wonder whether or not I'm taking enough care of my hair.
What was it like working with Mansur Gavriel? What other projects you have done? Working with Mansur Gavriel was awesome! Everything was so minimal yet elegant. The style for that shoot was everything. The clothing I was modeling in made me feel like I was in an old film. I was shooting how-to videos for NARS when my sister told me about Mansur Gavriel, so NARS was my first major campaign. After NARS, I worked with Dune Ivan in Miami for MRKT DEUX, and then I went back to New York City to work with Rachel Antonoff for her new collection. It wasn't until the day before I worked with Rachel Antonoff that I worked with Mansur Gavriel, because when they initially contacted me I couldn't work them into my schedule. Right now Bianca and I are teamed up with Pia Arrobio to work for her brand, LPA the Label, which she recently launched. We're really excited about that! Everyone that I've worked with has been so sweet. Every experience is special in their own way, and I always have the best time. I get to meet a lot of hard-working, amazing individuals. I feel very blessed.