Natalia Shows Cara How It's Done
In case you missed it, here are the top style stories of the week.
---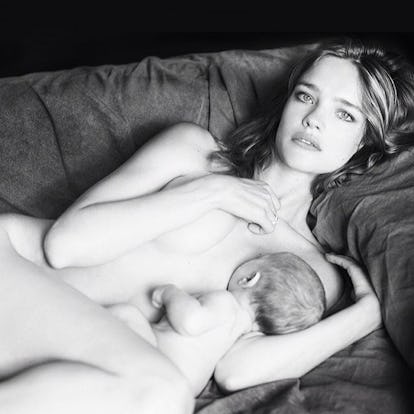 Balenciaga Introducing the first new fragrance since Alexander Wang took over the French Fashion house this fall. Sweet.
Banks, Tyra Is returning to daytime television with a new talk show. Second time's a charm?
CFDA Named Altuzarra, Public School, and The Row Womenswear, Menswear, and Accessory designers of the year, respectively. Too bad the entire event was upstaged by Rihanna's sheer Adam Selman gown.
Cooper, Bradley Wears short shorts. And we don't hate it.
Delevingne, Cara Pretended to be pregnant while modeling maternity overalls on Instagram. No Cecil included.
Goff, Trish The retired model makes a comeback as the face of Trademark, Louisa and Pookie Burch's line; solidifies the return of the '90s.
Jolie, Angelina Is dying to play Cleopatra. Has something in common with Lindsay Lohan.
Lagerfeld, Karl Adding the Louis Vuitton monogram to his to-reinvent list. Because designing for Chanel, Fendi, and his eponymous line isn't enough.
Lopez, Jennifer Wears that Versace dress again in a major cry for attention. JLo, we hear you!
New Balance Suing Karl Lagerfeld for knocking off its sneakers. My, how the tables have turned.
O'Connor, Sinead Demonstrates that she is the boss—as in Sheryl Sandberg, not Bruce Springsteen—with a new album.
Ono, Yoko Ordered to pay Brooklyn designer after copying their designs. Lagerfeld: take note.
Princess Charlene of Monaco Is expecting her first child with Prince Albert II. Will rival Kate Middleton's maternity moda.
Ratabesi, Natalie The creative director of Philosophy is leaving the brand after just a year and a half for a new role at Vince. Fingers crossed this relationship is longer lasting.
Rihanna Can't cut a break: A fragrance ad staring the singer was banned in the UK. At least Instagram hasn't noticed. Yet.
Scott, Jeremy Cast Linda Evangelista in his first Moschino campaign. Really living out his '80s obsession to the max.
Vodianova, Natalia Makes breastfeeding look high fashion with nearly nude Instagram. Shows Cara how it's really done.
von Furstenberg, Diane Put her own countenance on a Resort 2015 sweater.
Waterhouse, Suki Takes a turn as a designer for Superga. Did not include her own face on the kicks, unfortunately.