Natalie Portman Revisited Her Jackie Kennedy Impression For Saturday Night Live
Natalie-as-Jackie hosts a reunion of First Ladies.
---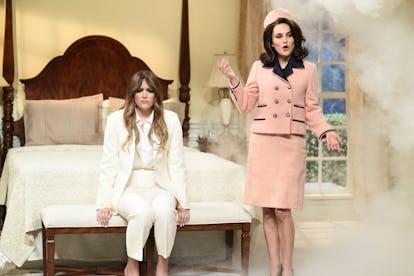 Photo by: Will Heath/NBC
Natalie Portman revived her Oscar-nominated Jackie Kennedy impression on Saturday Night Live last night, appearing as a pink Chanel-clad ghost to help a nervous Melania Trump (Cecily Strong, who claims the first lady loves her impression) prepare for her husband's first State of the Union. Sure, Trump was recently caught up in scandal after adult film star Stormy Daiels said she'd slept with the president while he was married to Melania, and Fire and Fury author Michael Wolff says there's an undisclosed affair, but you know who cheated on his First lady with the biggest film star of their era? JFK! In Jackie's signature soft-spoken cadence, Portman reminds Melania that her job is to use her platform to help a cause. Melania's is cyberbullying. Jackie's was "tiny hats."
Not to be outdone in the category of embarrassed first ladies, Hillary Rodham Clinton (Kate McKinnon) appears to remind the gang of the time her husband's affair became, you know, a full-on impeachment trial. But it was all worth it because ow Hillary is the president and it's going super well. They're then joined by Martha Washington (Aidy Bryant), who enumerates Ivanka Trump's responsibilities as being, actually, Melania's, before Michelle Obama (Leslie Jones) struts in to explain that her marriage to Barack was, is, and always will be perfect, and so are her arms, and she can be president if she wants.
Empowered by all the First Lady support she's received, Melania declares that she's ready to attend the State of the Union, she'll clap only if and when she feels like it, and her white pantsuit is totally a coincidence and not at all in support of suffragettes or modern-day women's movements. Watch the full (all-female!) sketch here, and then go watch Jackie if you havent seen it. It's really good.
Related: Melania Trump Apparently Likes How She's Been Portrayed On SNL
Jackie Kennedy Through the Years: A Look Back at the Original White House Style Icon
A smiling Jacqueline Bouvier arrives at St. Mary's Church in Newport, R.I., on the arm of her stepfather, Hugh D. Auchincloss, for her wedding, 1953. Photo courtesy of Getty Images.

Getty Images
Jackie Kennedy on a visit to India in 1962. Her signature pearls and gloves accessorize an apricot dress with bow accent. Photo courtesy of Getty Images.

Getty Images
Jackie looks windswept on a December afternoon in 1969 in a casual black turtleneck. Photo courtesy of Getty Images.

Getty Images
Jackie Onassis pictured receiving a gift from Prince Sihanouk of Cambodia and his wife during a trip to Cambodia in 1967. She dons a teal one-shoulder dress with decorative trim. Photo courtesy of Getty Images.

Getty Images
Jackie Kennedy on a trip to Canada in 1961. The First Lady matches an iconic pillbox hat to her red wool suit. Photo courtesy of Getty Images.

Getty Images
Jackie Onassis attends the Metropolitan Opera at Lincoln Center in 1967 wearing a white 3/4 sleeve gown cinched at the waist by a chunky belt with stone inlays. Photo courtesy of Getty Images.

Getty Images
Jacqueline Kennedy Onassis in a formal pants suit on East 75th Street, New York, 1960. Photo courtesy of Getty Images.

Getty Images
Jackie Onassis on the way to the Metropolitan Opera House House Royal Ballet in 1974. Her printed maxi dress exudes 70's glamour. Photo courtesy of Getty Images.

Getty Images
President and Mrs. Kennedy in West Palm Beach, Florida, 1961. Photo courtesy of Getty Images.

Getty Images
Ms. Onassis arriving at La Cote Basque in 1970. In a stunning red moment, Jackie looks playful in a beautiful ruffled dress that's belted at the waist. Photo courtesy of Getty Images.

Getty Images
Jacqueline Kennedy wearing a checked blue and white high cloche with a matching blue ribbon around the crown as she arrives with the President to greet the Pakastan President, Ayub Khan, Andrews Air Force Base, Maryland, July 11, 1961. Photo courtesy of Getty Images.

Getty Images
First Lady Jacqueline Kennedy walks a pace behind her husband in a monochromatic white outfit, a look that quickly became synonymous with Mrs. Kennedy during her Camelot days in 1962. Photo courtesy of Getty Images.

Getty Images
Jackie Kennedy exits a plane at Laguardia Airport Field in a knee-length leopard coat in 1962. Photo courtesy of Getty Images.

Getty Images
Jackie is pictured wearing her riding outfit at the 17th Annual Horse Show in 1970. Photo courtesy of Getty Images.

Getty Images
Jackie Onassis is photographed in 1970 at The Alvin Theater in New York wearing a black and white cocktail dress belted at the waist with geometric inserts. Photo courtesy of Getty Images.

Getty Images
Jackie is photographed at Heathrow Airport sporting a casual printed blouse and iconic oversized glasses in 1976. Photo courtesy of Getty Images.

Getty Images
Jackie Onassis pictured wearing a green cocktail dress to a dinner at La Cote Basque Restaurant in 1974. Photo courtesy of Getty Images.

Getty Images
Jackie wears a vibrant yellow gown to the Metropolitan Opera House in 1973. Photo courtesy of Getty Images.

Getty Images
Jackie wears a navy suit with a red bowtie while out with her children in 1971. Photo courtesy of Getty Images.

Getty Images
Jackie looks effortless exiting the cinema in a simple khaki skirt and tucked blouse during the summer of 1981. Photo courtesy of Getty Images.

Getty Images
First Lady Jackie Kennedy attends the unveiling ceremonies at the National Gallery of Art in a strapless lavender evening gown and satin elbow length gloves in January of 1963. Photo courtesy of Getty Images.

Getty Images
Jacqueline Kennedy Onassis wears a ballgown with a long sleeved sequin top to a gala at the New York Public Library in November of 1986. Photo courtesy of Getty Images.

Getty Images
Before she was a Kennedy, she was Jacqueline Bouvier. Here, the future Mrs. Kennedy is pictured in a floppy hat and shorts on holiday at the Kennedy compound in 1953. Photo courtesy of Getty Images.

Getty Images
In 1989, Jackie Onassis is sighted wearing a yellow sequin skirt paired with a crisp white blazer and pearls in New York. Photo courtesy of Getty Images.

Getty Images
Jackie Onassis attends her daughter Caroline's wedding wearing a long sleeved mint colored cocktail dress and gloves in 1986. Photo courtesy of Getty Images.

Getty Images