Natalie Portman Purchases 10.4-Acre Montecito Estate for $6.5 Million
The steel, glass, and concrete home was designed by Barton Myers.
---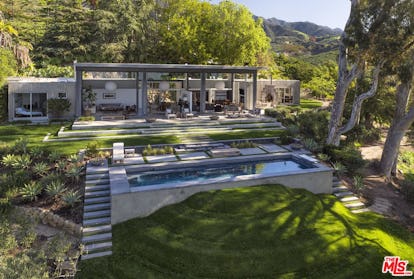 Courtesy of Trulia
If Natalie Portman ever needs to escape the hustle and bustle of Los Angeles, she now has the perfect hideout. According to Trulia, the Academy Award winner recently purchased a sprawling compound in Montecito, a small community in Santa Barbara County on the California coast.
The ultra-modern home, designed by Santa Barbara architect Barton Myers, is on more than 10.4 sweeping acres and cost the Jackie star $6.5 million. The 3,991-square-foot home is made of steel, glass, and concrete, and includes a state-of-the-art kitchen, four bedrooms, and five luxe bathrooms—plenty of room for Portman and husband, Benjamin Millepied, and their two children. The house is tucked among lush green trees, bushes, and other foliage, much like a hidden oasis along the Pacific coast.
The property is built into the side of a hill that slopes gently down to the ocean. The back of the house has floor-to-ceiling windows with gorgeous views of the Pacific Ocean. The backyard has a swimming pool, a rock garden, plenty of tree cover, and a huge entertainment area, with an outdoor fireplace, multiple patios overlooking the water, and an outdoor kitchen with the bar and dining area protected by a retractable roof.
According to Trulia, crime in the area is very low and Santa Barbara's local schools are highly rated, a good thing to keep in mind if Portman and Millepied decide to make their new Montecito oasis their family's main residence, instead of the half-acre estate in the Los Feliz neighborhood of Los Angeles where they currently reside. Star-studded Montecito has also previously been home to celebs like Jeff Bridges, Ellen DeGeneres and Portia de Rossi, and Gene Hackman. Oprah is a current Montecito resident, having bought one of the most expensive properties in the area in early 2016 for $28.9 million. Portman is in good company. See photos of her enviable getaway, below.
Natalie Portman Might Still Think About Kissing Patrick Swayze