Natalie Portman's Oscars Cape Paid Homage to Female Directors
Take a closer look at Natalie Portman's black and gold Dior cape, and you'll find a message regarding gender inequity in Hollywood.
---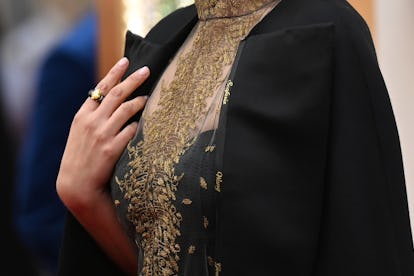 The 2020 Oscars have only just begun, but a sartorial statement made on the red carpet that continues the ongoing discourse about gender parity in Hollywood is what has people talking, and it's all thanks to Natalie Portman.
Upon close inspection of her red carpet ensemble, there appeared to be a clear message about gender inequity in Hollywood, something that Portman has been quite vocal about as a member of the Time's Up Initiative.
In fact, embroidered in the Dior cape Portman wore to the red carpet are the names of women directors, all of whom were snubbed from the Best Director category at the Oscars this year, and some of whom made films that were entirely left out of the Oscars conversation entirely. Surnames of directors Lorene Scafaria, Lulu Wang, Greta Gerwig, Melina Mantsoukas, Céline Sciamma and more names could be read in gold along the trim of the cape.
It seems that year after year, we continue to have the conversation about women being shut out from the opportunity to win an Oscar for Best Director. In fact, the last and only time a woman won the award was in 2009, when Kathryn Bigelow took home the Oscar for The Hurt Locker. This year, the nominees for Best Director are Quentin Tarantino for Once Upon a Time…in Hollywood, Todd Phillips for Joker, Bong Joon-ho for Parasite, Sam Mendes for 1917, and Martin Scorsese for The Irishman.
As soon as the nominees were announced, people noted that plenty of popular films from the past year were made by women deserving of a nomination, like Wang for The Farewell, Gerwig for Little Women, Sciamma for Portrait of a Lady on Fire, Lorene Scafaria for Hustlers (which was entirely snubbed by the academy, with not even a nomination for Jennifer Lopez, much to the chagrin of, well, just about everyone).
It should come as no surprise that Portman would send a message regarding the gender inequity playing out at the Oscars this year. After all, this is the same person who famously quipped, "And here all the all-male nominees," when announcing the winner for Best Director at the 2018 Golden Globes.
Related: Renée Zellweger Doesn't Want to Geek Out at the Oscars Again