Natalie Portman Sings a New Sia Song, "Wrapped Up," in the Latest Vox Lux Trailer
Hear her debut a new Sia song.
---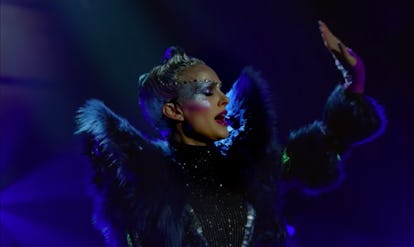 YouTube
Between A Star Is Born and Vox Lux, there is no shortage of quality original film music at the moment. While Natalie Portman's Vox Lux isn't out until December 7, we now have a preview of her singing voice and, with it, the new Sia songs that the enigmatic artist wrote for the film.
As it turns out, Portman can really sing. The latest trailer for the Brady Corbet-helmed film which follows the rise and tribulations of the fictional pop star Celeste offers the first glimpse at the actress' full transformation. It also doubles as the unofficial premiere of Sia's new song "Wrapped Up," which portends to be the "Shallow" of Vox Lux. The song is square in Sia's wheelhouse, with signature harmonies and uplifting lyrics. It's also the central number of the film, as it's the first song Celeste sings in the storyline when she gives her breakthrough performance as a teen at a memorial.
Like the film, which weaves between the storyline of young Celeste becoming a star, played by Raffey Cassidy, and adult Celeste still navigating stardom, played by Portman, the trailer shows both actresses in performance mode. "Tonight, we're going to bring it back to where it all began," Portman says at a concert before singing "Wrapped Up." "We're going to travel back in time." The trailer then cuts to Cassidy singing at the memorial, and splices together footage of current-day pop star Celeste and young Celeste.
"Your parents chose me to guide you through this," her manager played by Jude Law tells a young Cassidy, "Remember what I told you. You're just dancing in your bedroom. No one's looking at you and you ain't got a care in the world."
Coincidentally or not, this isn't the first time Portman has sang a Sia song. Back in 2016, when Sia was on the press circuit for her last album This Is Acting, she and Portman gave an acoustic rendition of "Iko Iko" alongside Jimmy Fallon.