Natalie Portman's New Gig: Pro Soccer Team Owner
She's in the owners' box now, sweetie.
---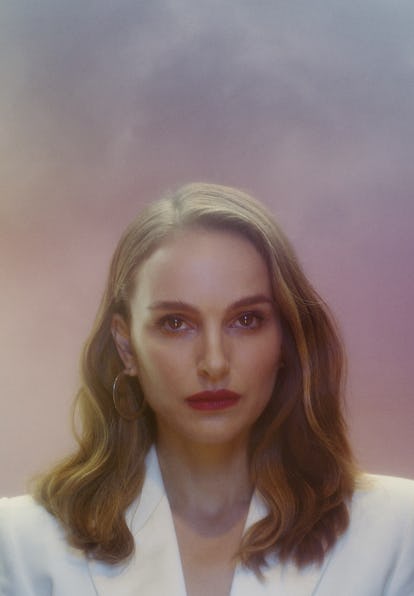 Photography by The Eastern Conference. Production by Tristan Tran Productions. Set Design by Caitlin Doherty. Backdrops by KA Media.
Natalie Portman has her Oscar, a contract with Dior, major roles in both the MCU and Star Wars, a Harvard degree, and more than a few cult classics under her belt. What else is a Hollywood superstar supposed to do? Well, apparently the next step is professional sports team ownership.
While some celebs start booze brands and others design athleisure, Portman is now leading an ownership group that will bring a National Women's Soccer League to Los Angeles. The rest of the ownership group reads like half an Annie Leibovitz cover portfolio from a Vanity Fair special issue. Fellow actresses involved in the bid include Uzo Aduba, Lilly Singh, America Ferrera, Jennifer Garner, Jessica Chastain, and Eva Longoria. Serena Williams, who once upon a time was a minority owner of the NFL's Miami Dolphins with her sister Venus, Gloria Estefan, and Fergie, is also involved. Only this time she's partnered with both her husband Alexis Ohanian and her daughter Alexis Ohanian Jr. Several women's soccer stars, including Abby Wambach, Mia Hamm, Lauren Cheney Holiday, and Julie Foudy are involved as well. On the business side, venture capitalist ​Kara Nortman and OUYA founder ​Julie Uhrman are also involved in the bid.
That may be one crowded owner's box, but if you haven't caught on, the ownership group is majority female.
Portman tells People she was introduced to the league by Becca Roux, the executive director for the USWNT Players Association, and that she saw an opportunity to help boost the profile of women's professional sports in America. Soccer is a smart move, considering how much more popular and successful the US Women's National Team is than the men's.
"We just started thinking about, what if there was a team in L.A.? We're the center of entertainment in this country for media," Portman told the mag. "What can we do to change the way people are paying attention to this sport? Obviously, the players themselves have been incredible and have brought so much attention, but everything hasn't always followed their success and their popularity."
The team won't start play, however, until 2022. Still, considering David Beckham took almost a a decade until his professional men's soccer team in Miami started play, that's pretty swift.
The NWSL was founded in 2012 as the successor to previous women's pro soccer leagues, and currently has nine teams. Though, Portman et al won't be the first celebrity owners in the league. Boxer Oscar De La Hoya and NBA star James Harden have a stake in the Houston Dash. Most teams, however, are owned by men, many of whom also own men's soccer teams as well.
The timing for a new major team with a celebrity pedigree couldn't be better. The league just signed a major coverage agreement with CBS Sports that involves the broadcast of 87 games a year. Twenty four other games are streamed on Twitch.
No official name for Portman's team has been announced, but its likely the nickname "Angel City" will be used.