Natalie Portman's Latest "Jackie" Trailer Gets Even Darker
Natalie Portman's turn as Jackie Onassis is expected to nab her an Oscar nom, but the latest trailer gives a better glimpse of the rest of the cast.
---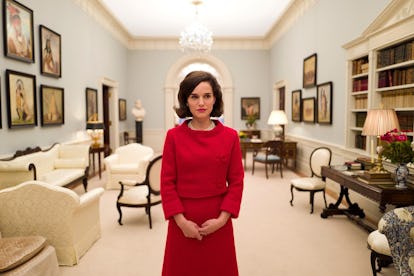 Who's in the mood to see former first ladies wrestle with the aftermaths of American political tragedies? Great, because the official trailer for Jackie is here.
We've already seen the moody, moving teaser trailer for Pablo Larrain's upcoming *Jackie*. It focused on a somber montage of Natalie Portman as a mourning Jackie Kennedy Onassis, and even that brief 104-second clip left little doubt as to why Portman is all but a lock to receive an Oscar nomination. Now, Fox Searchlight has released the official full-length trailer for the film gives us not only a better look in Portman's performance but a glimpse into the rest of the world of the film. There are previews of Peter Sarsgaard as Robert Kennedy, Beth Grant as Onassis's first lady successor Ladybird Johnson, and a previously little-known Danish actor Caspar Phillipson as John F. Kennedy himself.
The latest trailer starts with Portman putting on that famous pillbox house that matched that pink boucle Chanel (well, almost Chanel) suit and cuts back and forth from the day JFK to shot and how his widow dealt with it afterward.
While Kennedy Onasis is treasured as a style icon and pillar of American society (she was a perennial "In" in W's infamous In & Out List), the film is clearly far from some sort of celebratory fantasy with Kennedy as America's queen. It's rather a grim portrait of a woman not only dealing with the loss of her husband but with the weight of that very personal loss means to the rest of the world.
The film is scheduled for release on December 2, and to hear some tell it, the prevailing narrative around the Oscars race is that it's pretty much a two-woman race between Portman and Emma Stone for La La Land. We'll see how that plays out. Though, it's worth noting that director Larrain, writer Noah Oppenheim (a former Today Show producer turned Hollywood scribe), and the film itself are also all very much in the hunt for nominations in their respective categories in the awards race as well.
Interestingly, Portman would be the first actress to win an Oscar for playing a first lady. In fact, Hollywood has produced very few pictures that focus on a first lady as the main character before. We have to imagine that someone over there in Hollywood is channeling the emotion of the past week into their original screenplay for something like Hillary: An American Martyr.