For $1,000, Natasha Lyonne Will Leave You a Voicemail This Holiday Season
Other "crazy" (and charitable) gifts from Opening Ceremony include an astrology reading from Susan Miller and dinner with Amanda Lepore.
---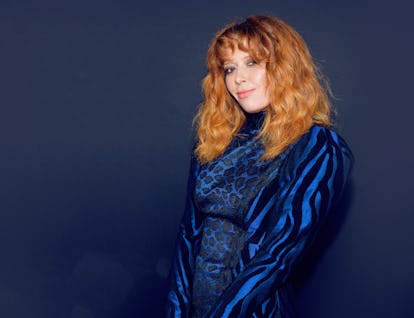 Getty
Downtown New York boutique Opening Ceremony is offering a slightly different take on the holiday gift guide this year.
Along with cropped cashmere cardigans, puff-sleeve denim jackets designed by Chloë Sevigny, and bizarrely appealing $80 Troll dolls with quartz crystals for hair, you can choose from a lineup of experiences offered by ten celebrity friends of the store.
Have someone on your list who's a major Natasha Lyonne fan?
For $1,000, the Russian Doll actress will leave them a personalized one-minute phone or video message. (If you ask nicely, maybe she'll even throw in a line from the show—nothing says holiday spirit like "Humanity…a little bit overrated, no?")
For your friend who begins every first day of the month by refreshing Astrology Zone until her horoscope loads, there's a 90-minute reading with famed astrologer Susan Miller, for $2,500. Perhaps the most mysterious and conceptual gift: a "custom invention" by the comedian, Saturday Night Live writer, and Los Espookys creator Julio Torres, who, also for $1,000, will consult with you via video chat to determine what's missing from your life, create an invention to fill the void, and deliver said invention to you in a chic little Martania purse, handmade by his sister in El Salvador.
Also on the list: a styled studio photo shoot with the photographer David LaChapelle, dinner with the legendary club kid Amanda Lepore at one of her favorite New York restaurants, a sneaker-shopping excursion with designer Jeff Staple, a weeklong trip to the Standard Hotel in the Maldives, and a signed jersey from Russell Westbrook.
One hundred percent of proceeds from each gift goes toward a charity of the celebrity's choice. In Lyonne's case, it's Lower Eastside Girls Club. Miller's gift goes toward amfAR's HIV Cure Research initiatives, and Torres's to Fondo Semillas, a Mexican nonprofit focused on supporting indigenous and rural women.
While we're intrigued at the idea of a surprise invention, seeing the look on a friend's face when she watches Natasha Lyonne wish her a Merry Christmas from her phone seems pretty priceless. And far more memorable than that candle you were probably going to panic-buy on December 24.