Inside the Mind of Nate Brown, Creative Director to Beyoncé, Drake, and Kanye West
The 28-year-old doesn't do fashion shows; he does "experiences." After working with West and Beyoncé, his latest project is Kithland, which showed during New York Fashion Week Spring 2017.
---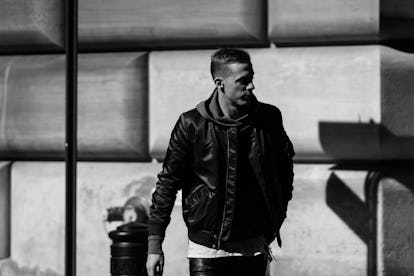 Harrison Boyce
You might not know Nate Brown's name, but you know his aesthetic. It's an all-black Apple watch sitting on a white marble table. It's about fonts and 'vibe.' It's the deconstructed set you find backstage, along with industrial fluorescent lighting, concrete floors, mirrors, and wires.
It's also John Elliott's Spring 2017 runway show; the visuals for Jay Z's Magna Carter World Tour; Beyoncé's The Mrs. Carter Show World Tour; Drake's Would You Like a Tour? tour; Kanye West's Watch the Throne tour with Jay Z and West's DONDA creative agency – not that Brown can really discuss that – and it's this week's epic Kithland show, which walked with much fanfare on Tuesday during New York Fashion Week.
"Elon Musk mixed with Fabien Baron, mixed with Karl Templer" is how the 28-year-old described himself, referring to the Tesla entrepreneur and two veteran creative directors.
Brown has come a long way from Hershey, Pennsylvania, where he was born. While his Linkedin profile is just as minimalist as his outward-facing personal brand — it only lists that he's the founder of Institute, the creative studio he started in 2013, Brown's behind-the-scenes career as a creative director is long and star-studded. Now, after years of burying his name in the scroll credits, he's slowly stepping out into the spotlight. It's a good time for someone with his skills. As his friend Virgil Abloh recently said, the title of creative director is just as in vogue as stylist.
After moving around a bunch and being homeschooled as a child, Brown finally settled in New York City at the age of 16, when he got a job with American Apparel's Dov Charney as an assistant. He then went on to work at Barneys, where he helped develop their online editorial site, "The Window." And then five years ago, Kanye West noticed a video Brown did for Vogue Paris.
"It was at a point in time when fashion was trying to move into the digital age," said Brown. "Tech brands and startups were doing all this experience-based stuff, but fashion brands were just advertising in the most old school way. I was trying to find a way for fashion brands to develop new experiences. Ye' saw that and hit me up and said he wanted to work with me on stuff. That's pretty much how he worded it: 'Stuff.'"
This 'stuff,' which turned out to be the visuals for the Watch the Throne tour, gained Brown a slew of new, high-profile clients like Beyoncé and Drake, who wanted him to do the visuals for their tours as well. And collaborating with Beyoncé in particular was a transformative creative experience for him. "She's the hardest working person I've ever met in my life," he said. He recalled one night while on tour in Glastonbury when she came straight from the 2012 Brit Awards to rehearse from 1:30 a.m. to 7 a.m. at full volume, still in her gown and heels. "If I can do this, you guys can definitely do this," she told the sleepy crew, which included Brown.
"Hashtag work ethic goals," said Brown, who like Abloh, has his hands in a number of different projects melding fashion, music, and technology at any given moment.
Brown likes to describe his own work as an "experience." "We don't do fashion shows," he continued. "We try to create these experiences that aren't just a runway with models where people take photos and call it a day. We want something that feels more dense and layered. And something that also doesn't just cater to what fashion shows originally catered to, which was essentially this market of buyers and VIPs."
For John Elliott, this meant bringing a river of water to the runway for a sensory sound experience. For Alexander Wang's 10-year anniversary runway show, Brown directed a trippy retrospective video that needed 65 cameras and drones to make. And for Kithland, Brown pieced together a mobster-film mashup, which was projected at the Samsung 837 space in front of a crowd including Bella Hadid, Jourdan Dunn, Teyana Taylor, Victor Cruz, Daniel Arsham, and Sarah Snyder.
The show also included performances by Fabolous, Mase, Ja Rule, and A$AP Rocky. Oh, and clothes, which were fine — but were overshadowed by both a logistical PR nightmare of getting everyone to their seats (the cops were involved due to capacity issues) and an overload of visual and audio information. This was unnoticeable from the lifestream, however, which some people went home to watch when the line outside got too crazy — much like they did when they learned Yeezy Season 4 was on Roosevelt Island.
Despite the outcome of these "experiences," they are perhaps well-intentioned.
"Let's make fashion fun again," said Brown a week before the Kithland show went down. For him, fashion shows these days should not only be technologically savvy with livestreams and drones, but they should also be theatrical in order for the audience to leave remembering more than just the clothes. "The funny thing about fashion week now is that the kid sitting in front of his computer is getting information way before it gets it Anna Wintour," he said. "We're trying to make shows for him."
This season saw a handful of these Twitter and Instagram-friendly "experiences," from Yeezy Season 4 to Opening Ceremony's "Pageant of the People," to Pyer Moss's spoken-word runway performance. And now Kithland. But if fashion week is going to be about the "experience" — rather than the clothes — then creative directors like Brown will find themselves quite busy for the foreseeable future.
As Brown so aptly put it himself: "Creativity is 10 percent of it, 90 percent of it is figuring out how to do it."