The New Guard: Nathalie Djurberg
In artist Nathalie Djurberg's animated world, there are no fairy-tale endings.
---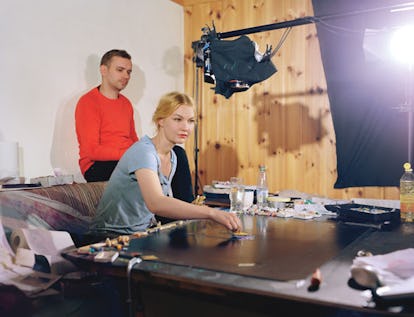 Nathalie Djurberg is afraid of ghosts. "It's so absurd!" says the Swedish artist, 34, recalling how unsettled she felt after ­relocating last November from Berlin to Rättvik, a remote town in Sweden. "I was never scared in Berlin. But here, the house creaks, and there are mice in the attic. I have to fight with my fear."
Djurberg's admission might surprise anyone who's seen her work. Her best-known Claymation videos hint at dark fairy tales—they're full of savage and ­sexual imagery that sometimes suggest connections between human and animal ­behavior. In one, a blue snake tears into the flesh of a naked yogi; for the 2009 Venice Biennale, at which she won the Silver Lion for best young artist, she produced a Plasticine Garden of Eden and three videos in which nature goes awry. Her latest show, "The Parade," opening at New York's New ­Museum May 2 (through ­August 26), features 80 fantastical bird sculptures and five stop-motion animations of clay figures enacting all sorts of grotesque scenarios. The fact that the artist lives four hours north of Stockholm—surrounded by mountains populated mostly with wolves and bears—makes sense, you think, until you hear Djurberg describe her initial experience of life in the wilderness with her partner and collaborator, Hans Berg, 34, who sets her films to music.
"We arrived really late at night, and it was pitch-black, and there were so many stars that you could almost see their different colors," Djurberg recalls. "Instead of thinking, Oh, this is beautiful, I felt like I was standing on the edge of a cliff and looking down into nothing." Having lived in Berlin for eight years, the couple relocated because "we wanted to walk on different streets," says Djurberg, who remembers crying on the sofa "for the first month and a half" after the move, before she learned to welcome the solitude. "When you stop ­being stressed that things might be happening somewhere else and you are not a part of them, you realize that what you do right here is important."
The change of home base has altered the way Djurberg works: Instead of her signature 3-D clay figures, she's now crafting a two-dimensional animated film in color for the first time, drawing images in pastel on black plastic that she then photographs, erases, and ­replaces with new ones. And whereas previously Berg wrote scores to suit Djurberg's films, for their current project she is creating the visuals for his compositions. Now that they've got nothing tying them to ­Berlin, they have quite literally moved on, at least as far as Djurberg is concerned. "The emptiness I feel here helps the visuals that I'm doing for Hans, because they are abstract; they have no story. I get so much done because there are no distractions. I think this [move] is the best thing I've done—maybe because of all that crying."