Nathalie Trad Loves Talitha Getty, Hates Trying Too Hard
The accessories designer shares a page from her style notes.
---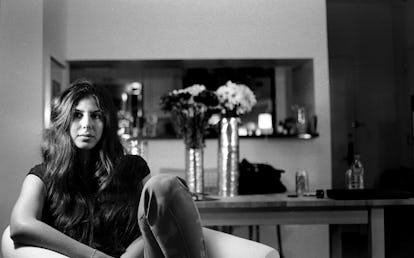 In just over a year, Nathalie Trad has built an accessories brand that counts Sienna Miller and Karolina Kurkova as fans and sells on highly curated sites like Farfetch, FiveStory, and Avenue23. Here, the designer, who splits her time between Dubai and New York, shares her favorite places in both cities, her style icons, and what she carries in her chic clutches.
Define your style in three words: Structured, monochromatic, understated.
Daily uniform: Jeans, a t-shirt, and oxfords or sneakers.
Greatest hits: A beautiful Jean-Paul Gaultier vintage blazer I found in Paris.
Preferred footwear: Flats.
Finishing touches: Stacked silver bangles that my mother bought in the late seventies at a souk in Bahrain, Rosa Maria jewelry, and a clutch.
Nighttime look: My evening look is quite similar to my day look, with some red lipstick, a pair of heels and one of my clutches
Best recent discovery: James Turrell's Roden Crater in Flagstaff, Arizona. Going there is high on my bucket list.
Favorite stores: The Strand bookstore and FiveStory for unexpected finds in New York; Art&Flower, a treasure trove of flora from across the globe where everyday you discover something new, in Dubai; Astier de Villatte boutique, a cabinet of curiosities, on Rue St. Honoré in Paris.
Style pet peeve: Trying too hard.
Style icons: Talitha Getty, Katharine Hepburn, Loulou de la Falaise.
Last purchase: A new cactus to add to my succulents and a few records to add to my collection.
Lusting after: I recently got a sneak peek of an incredible jewelry brand called Gaelle Khouri—I cannot wait to get my hands on their Cage ring. And a two-month trip around South America.
Favorite haunts: When I'm in New York, La Esquina for their cucumber mojitos and phenomenal tinga de pollo or Il Buco for an intimate night with my husband; and Rockwood Music Hall for fantastic live music any night of the week. Bu Qtair is the most authentic experience in Dubai, with fresh fish and plastic tables on the sand. And my all time favorite is Teatro.
What's always in your bag: iPhone, iPhone charger, Lucas Papaw cream, a snack, and my moleskin notebook.
Favorite spring trend: Sneakers.
Photos: Nathalie Trad Loves Talitha Getty, Hates Trying Too Hard
Nathalie Trad. Courtesy of the designer.
The contents of Trad's bag. Courtesy of the designer.
Trad's daily uniform. Courtesy of the designer.
Trad's favorite spring trend. Courtesy of the designer.
Trad's finishing touches. Courtesy of the designer.
Trad's last purchase. Courtesy of the designer.
Trad's preferred footwear. Courtesy of the designer.