Celebrities and Broadway Mourn Playwright Neil Simon's Death
One of the greatest American writers in history has passed.
---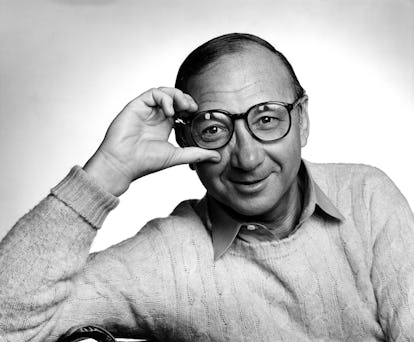 Photo by Jack Mitchell/Getty Images.
Whether or not you know his name, you have undoubtedly benefitted from the great work of the American playwright Neil Simon, who died on Sunday in New York at the age of 91. His humor fundamentally shaped comedy writing on Broadway and across many mediums in the 20th century. Simon was one of the most successful Broadway playwrights of all time, and hits like Brighton Beach and Barefoot In the Park continue to be part of the theater curricula across the country. His most famous work might be The Odd Couple, which has been adapted for other mediums like film and television multiple times over.
Simon was also part of a coterie of men whose sensibilities, for better or worse, would come to define American comedy for their generation. Along with Mel Brooks and Carl Reiner, he was on the now-legendary staff of Sid Caesar's Your Show Of Shows (Woody Allen was around that scene as well, but he was not on the staff, though many mistakenly believe he was). In 2006, Simon won the Mark Twain Prize for American Humor. He was also the winner of multiple Oscar and Tony Awards, and a Pulitzer Prize.
As Harvey Fierstein aptly put it, "Neil Simon – gone! A loss 4 the entire entertainment industry. He could write a joke that would make you laugh, define the character, the situation, and even the world's problems. First time I met him he looked at me and said, "Where the hell did they find you?" What a gent."
Per Time, Simon "died early Sunday of complications from pneumonia surrounded by family at New York Presbyterian Hospital in Manhattan."
Here, see reactions from celebrity fans, admirers and collaborators as they say goodbye to a once-in-a-lifetime talent:
[#undefined: undefined]
[#undefined: undefined]
Related: The Devil Wears Prada Musical Is Being Soundtracked By Elton John and Composer Shaina Taub
Kylie Jenner's White Nails, Bella Hadid's Summer Glow, and More of The Week's Best Beauty Moments
Kylie Jenner wears white nails. Photo courtesy of Instagram.
Bella Hadid wears a summer tan. Photo courtesy of Instagram.
Jasmine Sanders wears glitter eyeshadow and dark lips. Photo courtesy of Instagram.
Ciara wears big curls. Photo courtesy of Instagram.
Adwoa Aboah wears a bleach blonde color. Photo courtesy of Instagram.
Shay Mitchell wears dramatic liner. Photo courtesy of Instagram.
Vanessa Hudgens wears side bangs. Photo courtesy of Instagram.
Kim Kardashian wears lined lips. Photo courtesy of Instagram.
Martha Hunt wears loose waves. Photo courtesy of Instagram.
Elsa Hosk wears a wavy bob. Photo courtesy of Instagram.