Netflix's Black Mirror Is Becoming an Art Exhibit
The TV show will be part of a sci-fi exhibit at London's Barbican Centre this summer.
---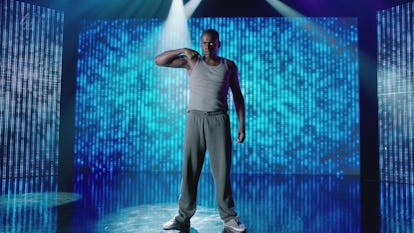 Netflix's spooky anthology series Black Mirror is becoming an art exhibition, reports The Fader. Beginning in June, the Barbican Centre in London will be home to an immersive exhibition, "Into the Unknown: A Journey Through Science Fiction," that will feature a video installation recreating parts of the 2011 episode "Fifteen Million Merits."
Unfortunately, that means museum-goers won't get to enter the time-hopping world of "San Junipero," but "Merits," from the series' original run on Britain's Chanel 4, is just as memorable.
That episode was the second ever to air, and centered on an imagined world in which a group of people aspiring to be on reality television (on a show somewhat reminiscent of American Idol) spend their lives completing activities and chores in the hopes that they will earn enough merit points to be given their shot at fame. The episode also starred actor Daniel Kaluuya, who is now well known for his role in the film Get Out.
Of that role, he told W earlier this year: "Whenever I'm in a film that's from a perspective that is dominant within western culture… I'm always trying to prove myself…When it's from a black perspective I don't have to—they get it. I'm playing a white game, but I'm black. I love being black. All I'm doing is being in films that I would watch if I wasn't in this industry. What I find really exciting is stories from a different viewpoint."
The video installation that will feature Black Mirror will stand 6 feet tall and, according to The Fader, will be at the entrance to the exhibition. The art will be a composition of multiple screens that feature cuts and scenes from the episode, promising to provide a fully immersive experience.
In addition to Black Mirror, other sci-fi films will be included in the experience, such as classics like *Star Wars, Jurassic Park, and Alien, as well as more recent productions like Interstellar, The Martian, and Ex Machina*.
The exhibit will run from June 3 to September 1 at the museum.
See What's Tending in W Video: