House of Cards' Sixth Season Will Be Its Last
The sixth season will be the last.
---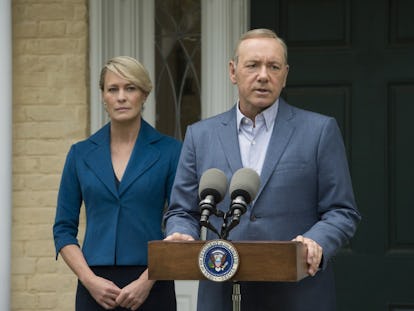 Netflix
House of Cards has officially been cancelled, marking the end of an era. The show, which not only signaled Netflix's breakthrough in original programming but also brought prestige to the streaming industry when it was nascent at the top of this decade, will be ending with a sixth and final season. The cancellation news comes in the wake of sexual misconduct allegations against star Kevin Spacey, brought forth by actor Anthony Rapp who claims that Spacey made unwanted sexual advances towards him when he was just 14 years old. After Spacey issued an apology on Twitter, and came out as gay simultaneously — in effect, pivoting from Rapp's narrative — Netflix issued a statement condemning the actor who plays Frank Underwood.
"Media Rights Capital and Netflix are deeply troubled by last night's news concerning Kevin Spacey," said both companies in a joint statement, according to The Hollywood Reporter. "In response to last night's revelations, executives from both of our companies arrived in Baltimore this afternoon to meet with our cast and crew to ensure that they continue to feel safe and supported. As previously scheduled, Kevin Spacey is not working on set at this time."
This isn't the first cancellation Netflix has issued this year, as the streaming giant has also axed the Baz Luhrmann-helmed, '70s-set The Get Down, Sense8 by the Wachowski siblings, and Girlboss, based on the life of Nasty Gal founder Sophia Amoruso. When those cancellations were announced this summer, Netflix chief content officer Ted Sarandos explained the decisions telling Variety, "When you have a very high hit ratio, you definitely want to keep second-guessing yourself even though you do [have a high renewal rate]. The more shows we have, the more likely in absolute numbers that you'll see cancellations, of course." He also added that Netflix currently has a 93 percent renewal rate.
With House of Cards though, which has won critical praise with 6 Emmys and a total of 46 nominations, it may be that the show's cancellation is driven by more than numbers. When Rapp's allegations against Spacey broke, some fans began using Twitter as a platform to call for a cancellation of the series. Aside from Spacey's sexual misconduct, that show has also historically struggled with sexism. Star Robin Wright famously had to fight against the streaming service to earn equal pay — despite having equal screen time as Spacey and a Golden Globe — as she revealed last year. "I was like, 'You better pay me or I'm going to go public,'" she said at the time. "And they did." Another reason House of Cards' cancellation is just: With Spacey's sexual misconduct exposed, the show is all too real considering we still have a real-life president who has a long history of sexual abuse allegations levied against him.
Related: Kevin Spacey Responded to Assault Allegation with a Coming Out Narrative
Ali Michael Scares New Yorkers in High-Fashion Halloween Costumes: